Strouse supplies Ford with automotive adhesives that solve several key issues from design to assembly. In the automotive industry pressure sensitive adhesive and tapes are mainly used for the following applications:
Part Mounting and Attachment
Prevent buzz, squeak, and rattle (BSR)
Mask vehicles during the paint process with high temp and fine line masking tapes
Protect surfaces during assembly and shipment with protective films
And much more...
The designers and modelers at Ford give a whole new meaning to tape. They use tape from Strouse as a form of communication when designing and developing the body of a new vehicle. The tape is used to communicate ideas both on paper and on the clay models. The full scale clay prototypes are marked up with clay to indicate changes that need to be made to the design. This method has been used since the beginning of car modeling, and it is still used today even with the invention of 3D modeling on computers. You simply cannot replace the experience of walking up to a full scale car.
Tape works perfect for the design team at Ford because it is easy to handle, can quickly be placed, and it is repositionable. Tape also can easily be stretched and placed to mark a straight line the entire length of the vehicle yet can form to the shapes and curves on the body of a sports car. That type of precision can't be replicated by using your hands to mold or a knife for carving the clay prototype.
Contact us today if you have your own questions about using automotive adhesives!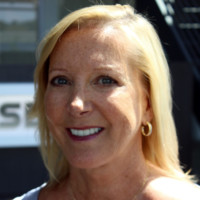 Sue Chambers
As the CEO and President of Strouse Corporation, Sue Chambers is responsible for leading all facets of the business. Sue has a proven executive management track record and over 20 years of experience driving sales growth and operational innovation in the adhesive conversion industry. Sue possesses strong leadership, strategic vision, and savvy marketing skills. Sue has an MBA from Loyola University in Maryland. Since 1997 Sue Chambers joined Strouse and led the transformation into an enterprise-focused company while growing the company into a world leader in the innovative production of pressure-sensitive adhesive with revenue of over 20 million and growing. In the last three years, Strouse revenue has grown 62%; the number of employees has grown and continues to achieve and maintain ISO 9001 and ISO 13485 certification. Strouse built a new production plant going from 40,000 to 62,500 square feet, increasing the production space by 50%. The building also can expand to 82,500 sq. Feet. Sue is active in the community serving on the Industrial Development Board presently and earning several business awards over the years. Most recently, 3M has recognized Strouse as a supplier of the year. She is also on the Dale Chambers Foundation board that raises money for local charities in the community.