Adhesives are any materials meant to temporarily or permanently hold two or more objects together through surface contact.
Adhesives are best classified into categories based on the forms they come in: tapes, films, liquids, pastes, and solids. Strouse works specifically with Tapes and Films.
Tapes are the most popular form of adhesive. They come in roll form and can be converted into customized sizes, shapes, and forms as a finished good. Among adhesive tapes there are pressure sensitive adhesives (PSAs), water activated tape, and heat sensitive tape which each have a wide range of application usage in just about every industry.
Films are similar to tapes; they come in roll form and can be converted to custom shapes and sizes. Films are often used as a protective barrier or bonding materials with a smooth transparent substrate for electronic devices.
Liquid adhesives come in bottles, tubes, and other forms of sealed containers. This adhesive cures when it comes in direct contact with a surface or hardens from the moisture in the air. Liquids are used to fill voids and can be sprayed to cover large area applications.
Pastes come in sealed containers similar to liquid adhesives but are spread along surfaces to form a bond. Adhesive manufacturers have created one-part and two-part paste adhesive formulations for strong bonds to rubbers, metals, wood, plastics, and masonry.
Solid adhesives are typically used for very specific applications. The adhesive comes in sticks (such as hot glue-gun sticks), cartridges, or pellets. Their form makes the adhesive very clean and easy to store and handle.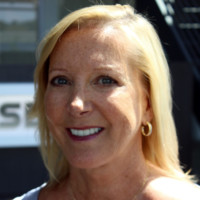 Sue Chambers
As the CEO and President of Strouse Corporation, Sue Chambers is responsible for leading all facets of the business. Sue has a proven executive management track record and over 20 years of experience driving sales growth and operational innovation in the adhesive conversion industry. Sue possesses strong leadership, strategic vision, and savvy marketing skills. Sue has an MBA from Loyola University in Maryland. Since 1997 Sue Chambers joined Strouse and led the transformation into an enterprise-focused company while growing the company into a world leader in the innovative production of pressure-sensitive adhesive with revenue of over 20 million and growing. In the last three years, Strouse revenue has grown 62%; the number of employees has grown and continues to achieve and maintain ISO 9001 and ISO 13485 certification. Strouse built a new production plant going from 40,000 to 62,500 square feet, increasing the production space by 50%. The building also can expand to 82,500 sq. Feet. Sue is active in the community serving on the Industrial Development Board presently and earning several business awards over the years. Most recently, 3M has recognized Strouse as a supplier of the year. She is also on the Dale Chambers Foundation board that raises money for local charities in the community.