Foil Adhesive
Conformable, Industrial-Strength Adhesion
Industrial, Electronic, and Aerospace Applications
Metal tape and foil adhesive tapes (aluminum, copper, stainless steel) solve unique applications and can help with EMI and RFI shielding, aircraft paint stripping, sound and vibration suppression, and much more.
Strouse customizes these materials to include a tab or extended liner, making hand assembly more efficient, and also cuts for proper automated assembly.
FOIL ADHESIVE FEATURES
Foil adhesive and metal tape features:
Thermal management

Flame resistant
Weather and UV resistant
Resistance to most chemicals
Heat and light reflective
Efficient heating or cooling
Tear and puncture resistant, tough backing
Industrial strength bonding
Cold temperature and high humidity bonding
And more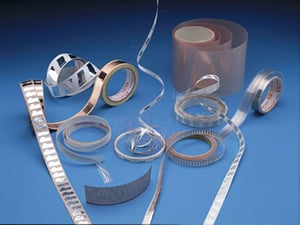 TAPE TYPES AND PRODUCTS
Foil adhesive tapes:
Aluminum Foil Tape — low-cost and conformable; provides flame and smoke resistance, UV chemical resistance, and vapor sealing; withstands many environmental conditions; popular aluminum foil tapes: 3M 425 Aluminum Foil Tape, 3M 431 Foil Tape, 3M 433 Foil Tape, Avery Dennison 800 Series

Copper Foil Tape — lightweight and conformable; provides resistance to heat, oils, solvents, oxidation, and corrosion; very flexible and easy to handle; popular copper foil tapes: 3M 1181 Copper Foil Shielding Tape, 3M 3313 Conductive Copper Foil Tape, 3M 1194 EMI Copper Foil Shielding Tape
Stainless Steel Tape — conformable, lightweight, flexible, easy to handle, non-corrosive and non-magnetic bond to other metals and high surface energy substrates; performs well in a wide range of temperatures; a popular stainless steel tape selection is 3M 3361Foil Tape
Various backing materials include aluminum foil, aluminum foil laminated to glass cloth, aluminum urethane, copper foil, lead foil, polypropylene film, silver polypropylene film, stainless steel, and more.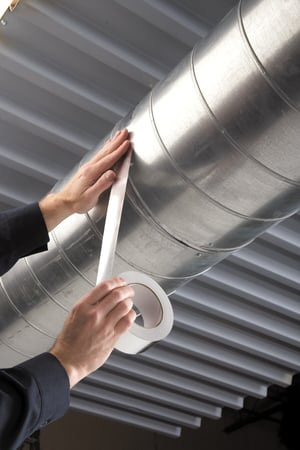 Does foil adhesive sound like a solution to your product challenge? Let's talk about it today!
"We look forward to continuing to apply their expertise to our product lines, both new and existing."