Strict deadlines. Tight budgets. Performance demands. The pressure is on design engineers who face numerous challenges and decisions during every step of a project. One tough decision is selecting a bonding application solution.
Adhesive bonding is the process of bringing two or more surfaces together using a viscous substance. To select the right one, modern manufacturers need to consider the adhesive performance of each substance as well as any assembly advantages a solution may possess.
Before we dive into the options and (spoiler alert) why bonding tape is so widely used and recommended, let's cover what adhesive bonding is and how it's changed over time.
Bonding Options — a Brief History
For years, in order to create permanent bonds between substrates, engineers relied on screws, bolts, mechanical fasteners, rivets, welding, and liquid adhesives. While these materials can work for the right project, they often have unintended consequences:
Screws, bolts, and mechanical fasteners can all significantly increase the weight of a product and, in some cases, can impact product performance. Plus, they don't handle vibration well over a long period of time.
A lighter weight solution, rivets punch through a material and create an uneven bond with vulnerable stress points that can fail on minimal impacts.
Welds are strong permanent bonds, but the process can be time-consuming and disruptive in an otherwise efficient assembly process.
Liquid adhesives create lightweight, high-performance bonds, but they can be tedious and, like welds, time-consuming to apply. They also can be very messy.
Bonding tape, including

pressure sensitive adhesive tape

, is a category of adhesives that offers many assembly advantages and incredible versatility.
Why Bonding Tape is a Solution You Should Consider
1. Strength
Let's start with the main reason to use adhesive bonding: to bring (and keep) surfaces together. Thanks to recent innovations, bonding tapes have become some of the most strong and durable materials available. Some self-curing adhesives create bonds nearly as strong as the components on which they're adhered.
For instance, 3M™ VHB™ (Very High Bonding) Tape, a fully cured pressure sensitive adhesive tape, is an incredibly strong bonding tape that outperforms traditional bonding solutions and is 10x stronger than rivets. In addition to strength, think about versatility. Most assembly options are fine for metal-to-metal or plastic-to-plastic attachments, but bonding tape can create a secure bond between surfaces that aren't the same.
2. Stress Distribution
Speaking of strength and versatility, bonding tapes can be used in many bonding applications to replace rivets, welds, and other fasteners that have concentrated stress points. Strips of tape along a surface spread stress loads across the entire tape area, not on one specific point.
Tape's high-performance and permanent bonds hold up better against shear stress than many other bonding options.
3. Appearance
When using bonding tape, design engineers can expand options for a more aesthetically pleasing look. That's because they don't need to contend with protruding fasteners or weld burns. Bonding tape creates a tight connection without adding unsightly bulk.
Plus, bonding tape's light weight can help reduce material thickness, which isn't possible with welds or mechanical fasteners. After adhesive bonding, there's only a smooth and seamless bond that performs beautifully and effectively. This matters in any design environment where graphics and exteriors are highly visible, such as an automobile.
4. Productivity
On the production floor, time is always money. Bonding tapes are easy to use and apply, helping speed assembly, decrease labor hours, and reduce overall manufacturing costs.
Plus, automation is allowing bonding tape to be distributed and implemented quicker than ever, making the assembly process more efficient, accurate, and consistent. Automated, robotic systems streamline assembly of custom products in ways not previously available.
Other Bonding Solutions
As powerful and versatile as bonding tapes are, there are other adhesive materials that have bonding benefits (and none of the downfalls of mechanical fasteners, rivets, or welds). But, how do you know the right ones for your project? Whether a permanent or temporary bonding adhesive, work with a full-service adhesive tape converter to find the necessary materials, solve problems, and see how adhesives are vital to a successful project.
Naturally, a converter that's certified as "3M Preferred" has the trust and backing of industry leader 3M, which proves that they're bonding tape experts and have access to the latest and most advanced adhesives. If you have any questions or comments about bonding tape, contact Strouse. Or, ask an engineer about adhesive solutions today!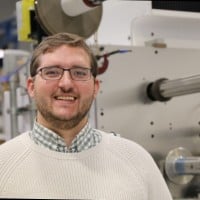 Scott Chambers
As the VP of Sales and Marketing for Strouse, Scott oversees Strouse's Go-To-Market Strategy. Scott has a BS in Business Management from Coastal Carolina, a JD from the University of Baltimore School of Law, and an MBA from Indiana University.