Choose the right masking product for your application at Strouse.
WESTMINSTER, Maryland - 3M Industrial Adhesives and Tapes Division has introduced a simplified portfolio for their masking tapes to distinguish product performance and enhance understanding. The new '5 Tape System' puts a logical number and name system to the entire family of masking adhesives.
As 3M's innovation has revolutionized the masking industry, there have been many different options and products developed and released into the market. This made the selection process increasingly difficult over time. "Before the streamlining took place, finding the right masking product was confusing. The customer might not choose the right product to meet their performance requirements, resulting in quality issues..." says Linda Greene, Sales Engineer at Strouse. "They can now choose with confidence which product will work for them."
These masking tapes are being stocked at Strouse as the program is introduced to the market.
The masking tapes will now be split into the following five groupings:
3M Value Masking Tape - 101+
Basic Tape - For indoor use and simple applications. Masking, temporary holding, wrapping and sealing.
3M General Use Masking Tape - 201+
Tough Tape for Everyday Jobs - General indoor use, light and medium duty. Smooth and conformable while sticking to many different surfaces. Easy to handle, apply, and remove. Use for bundling, labeling, and identifying.
3M Performance Yellow Masking Tape - 301+
Industrial Performance Masking - Conformability to irregular surfaces. Resists paint bleed-through with great paint lines. Yellow backing ensures good visibility. Used for industrial paint masking, bundling, holding, marking, color coding, and sealing. Withstands surface temperatures up to 225°F (107°C) for 30 minutes.
3M High Performance Green Masking Tape - 401+/233+
Industrial Strength High Performance Masking - Highly conformable to irregular surfaces. Superior adhesion to metal, rubber, glass, and plastic. Removes cleanly in one piece with no residue. Resits paint bleed-through and creates super-sharp paint lines. Green backing improves visibility and accuracy during paint masking. Used for high performance industrial painting, including two-tone color application on trucks, buses, trailers, trains, fire trucks, ambulances, and airplanes. Withstands surface temperature up to 250°F (121°C) for 30 minutes.
3M Specialty High Temperature Masking Tape - 501+
For the Highest Degree Industrial Performance - Exceptionally conformable to irregular surfaces. Superior adhesion to metal, rubber, glass, and plastic. Removes cleanly in one piece with no residue. Extra-strong backing resits bleed-through from most industrial paints. Creates super-sharp paint lines. Ideal for all high temperature paint backing, fascia painting and pipe coating applications. Withstands surface temperatures up to 300°F (149°C) for 30 minutes.
Strouse is a die cut adhesive manufacturer with over 25 years of industry experience. Serving the medical, automotive, military, appliance, and renewable energy industry, Strouse continues to innovate. With a quality management system currently registered to ISO 9001:2008 standards, Strouse not only has a commitment to quality but excellent customer service. A full team of design and development engineers allows Strouse to invest the necessary time and resources for each and every project. Located in Westminster, Maryland, Strouse can be contacted directly at 1-800-410-8273 or visit our website for more info at www.strouse.com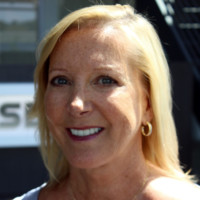 Sue Chambers
As the CEO and President of Strouse Corporation, Sue Chambers is responsible for leading all facets of the business. Sue has a proven executive management track record and over 20 years of experience driving sales growth and operational innovation in the adhesive conversion industry. Sue possesses strong leadership, strategic vision, and savvy marketing skills. Sue has an MBA from Loyola University in Maryland. Since 1997 Sue Chambers joined Strouse and led the transformation into an enterprise-focused company while growing the company into a world leader in the innovative production of pressure-sensitive adhesive with revenue of over 20 million and growing. In the last three years, Strouse revenue has grown 62%; the number of employees has grown and continues to achieve and maintain ISO 9001 and ISO 13485 certification. Strouse built a new production plant going from 40,000 to 62,500 square feet, increasing the production space by 50%. The building also can expand to 82,500 sq. Feet. Sue is active in the community serving on the Industrial Development Board presently and earning several business awards over the years. Most recently, 3M has recognized Strouse as a supplier of the year. She is also on the Dale Chambers Foundation board that raises money for local charities in the community.