When searching for an adhesive foil to use inside your product, you're probably expecting a more complex material than the foil you'd use to bake cookies.
Luckily, there are many types of adhesive foils to use in your application, depending on the design.
Over the past three decades, our clients have used a range of adhesive foil designs for their project components. As a result, foils are one of the common flexible materials we use.
If you're looking into different materials, you might be unsure which foil to choose. By the end of this article, you'll understand the different types, uses, and benefits of adhesive foil.
WHAT IS ADHESIVE FOIL USED FOR?
Adhesive foil is used in conductive, shielding, and reflective applications, often within electronic devices. However, it can serve many other roles, such as decals and label detection.
Let's take a look at the most common adhesive foil uses.
EMI & RFI Shielding
Heat sealing
Splice detection
Flame, weather, and UV resistance
Light reflection
Industrial strength bonding
Temperature management
One example of adhesive foil being used to mark splices in material for better splice detection.
Manufacturers use metal-detectable tape to mark a specific area or demonstrate whether there has been any mishandling or breakage. Splice detection ensures the marked splice doesn't end up in the final product.
Another example of adhesive foil usage is blister lidding.
Blister lidding is when a piece of foil is heat-sealed over an opening, such as a spice bottle or package, leaving it covered yet easy to open. Foil tapes, which are typically foil with a polyethylene coating, can be heat-sealed over the tops of lids.
5 Types of Adhesive Foils
Like any other material, adhesive foil comes in many different variations based on the properties you're looking for. While there are undoubtedly more than five types of adhesive foils, these are some of the metals we've seen used most often.
1. ALUMINUM FOIL
When searching for low-cost and conformable adhesive foil, aluminum is a strong contender. Flame and smoke-resistant, UV and chemical-resistant, and able to seal vapor, aluminum foil tape can withstand various environmental conditions.
Uses for aluminum foil:
Heat dissipation
Heat and electricity conductor
Insulator against magnetic frequencies
General industrial, building, and construction
Making conductive tapes
Aluminum adhesive foil is used as a heat dissipator in transistors, diodes, and integrated circuits.
As a conductive material, aluminum foil is often adhesively laminated onto non-conductive surfaces to hold surface-mount components. It's also used to aid transformer winding and other electrical applications.
Conductive aluminum foil tape is also used for shielding, insulation, and other electrical equipment applications. Additionally, aluminum can help reduce arcing and prevent short-circuiting.
2. STAINLESS STEEL FOIL
For flexible, easy-to-handle, and lightweight components, stainless steel adhesive foil is a solid option.
Uses for stainless steel foil:
Sealing
Bonding to metals
High surface energy substrates
Food processing
Nuclear applications
Stainless steel adhesive foil can bond with metals and high surface energy substrates without corrosion or magnetic attraction. Additionally, stainless steel tape performs well in a wide range of temperatures.
3. COPPER FOIL
Copper foil is a relatively lightweight and conformable material with heat, oil, solvent, oxidation, and corrosion resistance. It's also easy to handle, which improves its manufacturability.
Uses for copper foil:
Heat exchangers/heat sinks
Lithium-ion batteries
Grounding
EMI & RFI shielding
Low voltage conductor
Copper has a higher thermal conductivity than other common metals, making it suitable for heat sinks and exchangers. Their low thermal resistance decreases the chances of fire outbreaks, which is especially relevant to EV batteries and thermal runaway.
Due to their stress and oxidation resistance, copper foils are also relatively durable and longer-lasting than some foil counterparts.
4. SILVER FOIL
Silver foil is another conductive material that can be used in different applications.
Uses for silver foil:
Electrical conductor
Heat-dissipation in electrical or thermal interfaces
Pharmaceutical packaging and barrier films
Medical devices or wound dressings
Silver foil is another conductor used in electronic technologies. However, silver has additional properties that make it especially suitable for healthcare applications.
Silver is toxic to microorganisms and inhibits the growth of bacteria and viruses. As a result, silver is sometimes used as a tool against infection during the wound healing process.
5. GOLD FOIL
If you're hoping to find a malleable, electrically conductive material, then gold might be a promising option.
Uses for gold foil:
Electrical conductor
Reflecting infrared light
Corrosion-resistant connectors
Gold foil has high electrical conductivity, offering little resistance to electrical flow. It is also highly corrosion-resistant and can be more long-lasting, which is why gold foil is used in so many connectors and contacts.
The soft nature of gold makes it ideal for flexible applications. Yet, other materials are used more frequently in comparison because gold adhesive foil is more expensive than copper and silver.
Of course, there are more types of foils than those we listed, but we'll leave discussions about all the different kinds of variations to the scientific journals. If none of those foils sounded right, consider looking into tin, titanium, and nickel adhesives or asking an adhesive manufacturer for further recommendations.
Using Adhesive Foil
The type of adhesive foil you choose and how your components are manufactured depends on the substrates you're working with and the application of your part component.
When manufacturing adhesive foil components, you'll want to ensure your material selection and design specifications fit well with your production process. Consider contacting a converter for advice on manufacturability as you move forward with your part design to reduce the chances of early mistakes.
Otherwise, consider checking out our Learning Center for more information on adhesive foil applications such as thermally conductive applications or EMI shielding.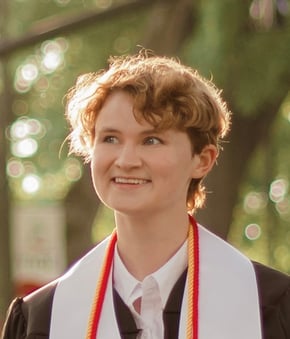 Lee K. House
Copywriter & Content Creator for Strouse. Lee graduated from the University of Alabama in the Spring of 2022 with a double major in English and Spanish.