3M 201+ is a general use masking tape that holds to a wide variety of surfaces.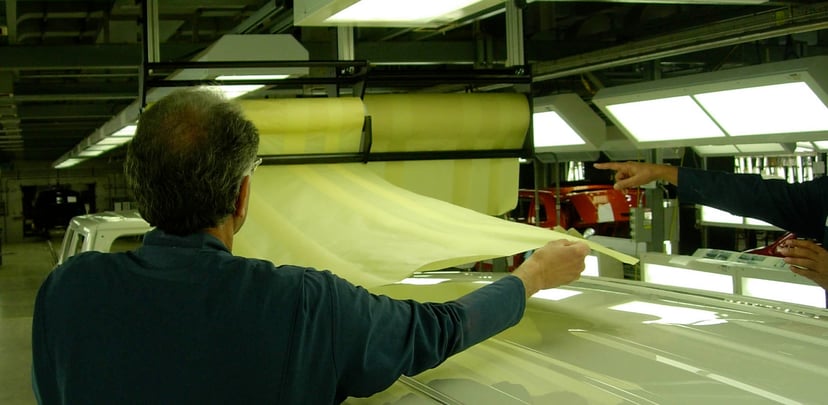 The second tape in 3M's Masking Made Simple portfolio, this material is best used for light to medium duty indoor applications.
3M 201+ is designed to stick and hold to paper, fiberboard, glass, rubber, plastic, and metal. The rubber based adhesive removes cleanly from these surfaces without leaving behind any residue. 3M 201+ masking tape tears easily by hand making it practical for non-critical applications. You can use the masking tape to bundle and wrap industrial goods like cords and hoses, mark boundaries, and for labeling and identification. 3M 201+ is widely used in many industries including automotive, military, construction, marine, and retail.
3M 201+ Features:
Sticks to Many Surface Types
Crepe Paper Backing can be Easily Torn by Hand but Resists Slivering
Smooth Unwind for Easy Control, Application and Removal
Medium Conformability
3M 201+ is a reliable masking tape for general use applications. It has a maximum operating temperature of 200 degrees Fahrenheit for up to 30 minutes. This material comes in a tan color and is a tough tape for everyday jobs.
Converting 3M 201+
3M 201+ can be easily die cut and converted into custom formats depending on your needs.
Slitting: Strouse can slit rolls of masking tape to custom widths. This provides you tape in the exact width you need for your task at hand. No excess or waste and no more using rolls that are too large and bulky or too small to get the job done.
Die Cutting: This is the process of cutting a wide roll of masking tape into a custom shape or usable part for your process. Parts can be cut into different formats to fit seamlessly into your assembly.
Individual pieces – Masking tapes can be laminated with liner on the adhesive leaving no exposed adhesive. This means that when parts are die cut they are provided as individual pieces that can be placed inside a bag.
Sheeted Parts – Some assembly processes require multiple shapes or parts of the same material. This is where sheeted parts come in handy. Multiple parts can be cut onto a single sheet ensuring that your employees will use all of the required parts during assembly. This reduces error in your process as well as the potential for product failure.
Die Cut Parts on a Roll – This is our most popular format for providing die cuts. Custom cut parts can be provided on a liner in the form of a rolled good. This allows for hundreds or thousands of parts to fit on a single roll. This makes application of die cut parts easy and efficient as parts can be removed from the roll and the next part is ready to be peeled and placed.
Tabs or Extended Liners: Die cut solutions are great for hand assembly or automated processes but sometimes removing the backing from an adhesive die cut can be difficult. Strouse simplifies this process by adding a tab to the part or extended liners that make it easy to remove the liner and place the adhesive. Liners can also be split backed saving your assembly team the frustration of removing thin liners while saving you time and money in the process.
Strouse die cuts and converts paper tape and flexible materials to solve many different adhesive applications. Our diverse manufacturing capability allows us to provide you the material you need in the exact size, shape, and format required for your design.