Doctor Horace Day is credited with the invention of the first tape in 1845. As a doctor using this invention in medicine it was called surgical tape. Dr. Day used a rubberized material applied to strips of fabric and the surgical tape was born.
Tape has come a long way since then. It has become a regular staple in our lives. It's most popular use might be Scotch tape used for wrapping presents and hanging papers on the wall.
Different types of tape are gaining popularity in other areas too. Like manufacturing and industrial applications. 3M is a leader in manufacturing adhesive tape. Their 3M 468MP adhesive transfer tape and their 3M 200P acrylic adhesive have revolutionized several industries.
So What Is Adhesive Transfer Tape?
Adhesive transfer tapes come in rolls. They are made from a pressure-sensitive adhesive. Then it is pre-applied to a special liner that releases easily from the adhesive. They come in various sizes for length, width, and thickness.
They are simple to use, adding to their popularity. Simply unroll and cut to the appropriate size you need. Then press the adhesive side onto the area you want to bond with.
When you are ready to attach what you need you simply peel the liner off. You then press your second piece firmly to the adhesive already attached. In seconds you have a bond that is strong and long-lasting.
Strouse offers adhesive tapes and liners that meet strict requirements for special applications. One such is appliance graphic overlays. These need to perform in high temperatures. As do foam gaskets, web splicing, nameplates, banners, signs, posters, point-of-purchase displays, and so much more.
3M 468MP 200MP Adhesive Tape Overview
This high-performance tape is engineered unlike other tapes. It's a popular choice for the automotive industry, manufacturing, and general industrial environments. It's used for attaching graphics and joining other thin or small pieces to larger objects.
It's gaining popularity in more and more industries. It has outstanding adhesion to both metal and high surface energy plastics. These make it ideal for many electronics manufacturing applications.
Bonding Qualities
It has some initial flexibility for repositioning when first applied to plastic surfaces. It lasts quite a long time once bonded. Even under extreme humidity and temperature fluctuations.
3M high-performance adhesive tape bonds graphic overlays on medical instruments by creating die-cuts. It's ideal for uneven, textured, and rough surfaces due to its thicker stronger adhesive. The clear adhesive will stick to metal, plastic, and paper with ease.
These have shown high resistance to solvents. They are durable under extreme heat. They have excellent shear strength to prevent edge lifting and slippage under stress. In fact, they can handle up to 400 degrees Fahrenheit for short time periods. They perform well up to 300 degrees Fahrenheit for much longer time frames.
Another popular use is for graphic attachment and membrane switch applications. This is because of its superior quality, consistency, and durability. 3M's proprietary process to create the acrylic adhesive offers more performance characteristics.
It has virtually no vapor inclusions you would see in adhesives manufactured by the more traditional solvent coating. Exceptional resistance to harsh environments makes this ideal for many different applications.
The adhesive has proven resistant to moderate exposure from organic solvents. It resists acids, bases, cleaning solutions, disinfectants, oils, germicides, saltwater, and more. Even after such exposures, the adhesive performs well against humidity and temperature fluctuations.
The entire family of 3M adhesive transfer tape comes in a variety of linear configurations. These enable superb process flexibility.
More Details
It has excellent shear and peel strength on high surface energy plastics and metals of all types. Its 59# PCK (poly-coated kraft paper) liner delivers a high-strength bond with laminating and splicing applications. Its thickness improves wet-out and adhesion on more textured surfaces than other adhesives.
The 200MP acrylic adhesive is so good it's considered the standard for most industrial joining uses and graphic attachments of all kinds.
The 5.2-mil adhesive on the 3M Adhesive Transfer Tape 468MP has a thicker caliper that adds to its wet-out capability. It's also an excellent performer when adhesion becomes compromised. This can happen when slight textures, irregularities, and moderately rough surfaces are present.
The 3M High-Performance Acrylic Adhesive 200MP is delivered on a 4.2-mil, 58-pound, PCK. This is excellent for applications for rotary processing of graphic and die-cut parts.
Other recommended applications include bonding rating plates, metal nameplates, and long term bonding of graphic overlays. These overlays are also known as subsurface printed polycarbonate or polyester. It's perfect for high-speed processing of medical components, flexible circuits, and durable labels.
Another example of an appropriate application would be the bonding of graphic nameplates for long periods. It performs well bonding graphic overlays on membrane switches for long periods. It is great for bonding complete switches to equipment surfaces.
3D Printing Application
With the advent of 3D printing, the need for a flexible, durable solution was answered with 3M's 468MP tape. Now it has become the standard when applying PEI sheets to a 3D print bed. That's because the 468MP's 200MP acrylic adhesive is perfect for setting up the PEI sheet as a build surface.
Its resistance to temperatures up to 400 degrees Fahrenheit keeps it well under the temperature range found on most 3D printers. Its shear strength and resistance to slippage and edge lifting also make it ideal for this application.
When using the 3M 468MP tape in 3D printing applications simply remove the liner and affix the adhesive to the PEI sheet. Next, you must remove the second liner and affix that side to the print bed. Be aware that the 200MP's strength makes it tacky. Attempt at re-positioning after the adhesive has touched something will be very difficult. You might see the adhesive clump.
Additional Application Ideas
The aerospace industry is ideal for 3M 468MP usage as a bonding agent for graphic nameplates and overlays to metal and HSE plastics. Automotive and appliance industry sectors are moving to the more widespread use of the 468MP tape too.
Telecommunications companies find the 468MP tape perfect in their high-speed processing of parts. It is particularly well-suited for use with its flexible circuits. It also works well as lamination to industrial foams for rotary die-cutting of gaskets in the electronics industry.
3M Industrial Adhesives and Tapes Division is constantly challenging the science of adhesion. Their goal is to provide innovative solutions that improve the design and manufacturing processes for companies around the world. In the end, technologies like the 468MP tape and 200MP adhesive help customers everywhere deliver competitive products to the market faster and more efficiently.
Application Execution
The surface must be thoroughly cleaned and dried to achieve maximum bond strength when installing the final part. Heptane is a common, effective solvent on oily surfaces, or you can use isopropyl alcohol on plastics.
When cleaning, be sure to use a reagent grade isopropyl solvent. Household rubbing alcohol is usually mixed with oils to minimize the effect on the skin when drying. These oils will interfere with the 468MP's pressure-sensitive adhesion ability. You should always read the manufacturer's label on solvents before using them to avoid damage or injury.
Remember, during the lamination process it's necessary to apply pressure, somewhere between 1.5-20 psi is recommended. You would increase that to 10-15 psi in the final stage of installation to allow the adhesive to come into direct contact with the substrate. A good tip is to use a hard-edged tool of plastic that is the full width of the laminated piece to ensure proper pressure at the lamination point.
Add Heat for Strength
In some metal applications, heat can increase the bond strength. This increased strength can last over long periods at room temperature thereafter. Plastic does not benefit from the application of heat. In some cases, heat can be counterproductive to the stability and durability of the plastic.
When applying heat during application you want the range to be between 60 degrees Fahrenheit and 100 degrees Fahrenheit. Do not apply heat when the surface temperature is below 50 degrees Fahrenheit, otherwise, the adhesive becomes too firm to adhere properly.
Textured Tips
If you're bonding thin, smooth, and flexible materials to a smooth surface the 2 mils of 3M 200MP adhesive should be acceptable. If either surface is textured you should use the 2-mil 3M 200MP to ensure proper adhesion.
During wide web format adhesive applications, you'll need lamination equipment to achieve acceptable quality. More information on this subject can be found at 3M.com or contact your 3M sales representative at Strouse any time with questions.
Environmental Resistance Data
Humidity has been shown to have minimal effect on the bond strength and adhesive performance of 468MP and 200MP products. When properly applied the UV rays have no impact on the 468MP and 200MP tapes and adhesives.
These products have proven their water resistance. Full emersion has no noticeable effect on their bond strength.
Temperature
The temperature has varying effects on the 468MP tape and the 200MP adhesive. Room temperature has no noticeable effect, maintaining its high bond strength over long periods.
During testing, the 468MP and 200MP underwent four rounds of temperature fluctuations. Each round was in four-hour increments. Temperatures were set at 158 degrees Fahrenheit first. Then lowered to minus-20 degrees Fahrenheit, and again raised to 73 degrees Fahrenheit. After four intervals the adhesive maintained its high bond strength.
Chemicals
Both the 468MP and 200MP showed excellent resistance to a variety of chemicals, including oils, mild acids, and alkalis.
Over time, the strength of the bond has been shown to increase with the 200MP acrylic adhesive. In short periods the 200MP has shown to be usable for up to several hours in temperatures up to 400 degrees Fahrenheit. Longer periods of weeks are possible in temperatures up to 300 degrees Fahrenheit.
The lower temperature service limit is minus 35 degrees Fahrenheit. Yet many factors can result in survival at lower temperatures. One factor is bonding occurs and then remain at room temperature for a time before exposure to the cold temperatures. Minus 40 degrees Fahrenheit is the lowest temperature achieved with this method.
Product Shelf Life
It should be known that shelf life can mean two different things. One would be how long the product can actually sit before being used. The second refers to how long the adhesive will hold.
As for storage, there are factors that can affect the lifespan of these products that vary depending on your facility. Variables such as edge ooze, liner release, and unwind have proven to affect converting operations. These variables do not necessarily affect the material properties of the tape or adhesive.
Because of this, the shelf life is intended to address storage of the unconverted product. There is no shelf life recommendation for final applications once converted. That is done at the discretion of the end-user or whoever does the converting.
Double-sided, pressure-sensitive adhesives like the 468MP and 200MP have a shelf life to ensure usability. Some adhesives become brittle and dry over time, losing their ability to adhere as originally intended.
In some circumstances, these products might not work as intended through no fault of adhesive performance. Rolls can deform, pick, and ooze making them difficult to handle and apply yet still retain good adhesive performance.
In terms of application shelf life, or durability during a specific application, this is determined based on its specific use. Exposure to sun, wind, rain, and chemicals will also impact how long the product lasts.
Generally speaking, from the moment a double-sided pressure-sensitive adhesive tape is applied stability begins to improve.
Liner Selection
The liner selected for your double-sided tape can directly affect your tape's performance and usability. Normal paper liners like Densified Kraft (DK) or Super Calendared Kraft (SCK) are much more susceptible to moisture than other papers.
These paper liners absorb moisture which causes expansion and contraction of the paper. Repeated expansion and contraction over time adversely affects usability. It also shortens the lifespan.
The thickness of the liner can also make a difference. Thinner caliper liners exhibit a higher tendency for deforming than thicker liners. This limits their usability over time.
Thicker liners are better for a number of reasons. First, they provide easier release over long periods which extends their lifespan. Liner tear is also less common along with dimensional stability. They provide more separation between the adhesive layers. This reduces the tendency of layer bonding together from edge ooze.
3M Conversion Projects at Strouse
At Strouse, your project is ours too. Our engineers, equipment, and industry connections can turn the seemingly impossible into reality. You'll get the right shape, proper size, and packaged exactly the way you want it. Our Industry-leading adhesive tape manufacturing processes and tight-tolerance die cutting are ready for anything application.
Die Cutting
If you need fast, precision die-cutting at high speeds and intricate shapes you need us. Die-cutting is our forte, and as such we've developed industry-best expertise in all facets of the process. Additionally, we continue to push the boundaries of what is possible.
Talk with us and explore the possibilities of die cutting with rotary, laser, flatbed, and tool-free digital converting. Over the last 15 years, we are proud to say we've had a 95% on-time delivery rate and a 99.99998% quality approval rating. Quite literally, it doesn't get much better than that.
Clean Room Manufacturing
If you have a complex product that needs a unique manufacturing environment we can help. Strouse's ISO 7-certified cleanroom controls variables in the environment. This control enables us to make the finest adhesive products with a trusted and proven process.
We know that air particles and moisture can ruin equipment before it ever leaves the production facility. This is especially true if you're dealing with medical devices and electronic equipment. Mold, bacterial growth, and other airborne contaminants can shorten the lifespan of materials.
These harmful contaminants alter the adhesion levels. They can ruin products, especially those dermally applied. Our cleanrooms eliminate these threats and result in the quality products you've been searching for.
Slitting
Minimum order requirements and supplier availability often force people into purchasing supplies in large quantities. These large widths and lengths are known as master rolls. These are difficult to move, handle, and use. Our Roll Slitting division can convert these master rolls into more manageable sizes.
You can then use them for precision die-cutting on your own press, or have us work with them for you on your next project.
We work with jumbo rolls every day. We will cut them to your specifications in length and width. We use the right adhesive and tape for your application. Foam, foil, film, and liner are all selected to work flawlessly for you.
Automated Assembly
Critical adhesive applications require die-cut components that must have tight tolerance levels. It can be challenging assembling these components. This is also true when those critical tolerances can impact the performance and durability of the component.
We've partnered with Accuplace, a leading manufacturer of automated assembly machines. These machines are designed to enable companies to take advantage of automated processes. This is always done in a cost-effective manner. In Strouse's case, that means meeting the challenges of adhesive component assembly.
Together we can help your company become more efficient, accurate, and scalable with your manufacturing needs. Our partnership with Accuplace means that choosing Strouse eliminates the need to bring in two organizations to realize one dream. You get it all in one place, from design to development, and on through production, there's just one source to manage us.
With Strouse, you'll get highly accurate and repeatable assembly. It will come with automated adhesive component placement. We can implement whatever automated assembly solutions you need. Our team will put them directly into your assembly line for increased efficiency.
Flexo and Digital Printing
Strouse is one of the most accurate converters for precision die-cutting. We aren't trying to brag, but it's the truth. When you combine our capability with custom printed tape you'll be happy with the quality. Parts, labels, and everything else will be perfect and they'll fit seamlessly.
Our six-color flexographic printed tape is available in a wide variety of formats. You can get it as a roll of tape, parts die-cut on a roll with the waste removed, individual parts, or sheeted. Don't worry if you have a difficult substrate. Our engineers will test and select the right material for the application.
We can produce IDs and tamper-proof labels, process instructions, create custom printed tape, and more. All are die-cut to custom sizes and shapes to fit your application perfectly.
Spooling
We can turn your custom rolls into individual spools of tape and adhesive. Working with a single larger roll versus a small one increases run time by decreasing role changes. It's just one more way we maximize your automation and assembly.
Laminating Multiple Materials
Our ability to merge multiple materials with our laminating processes allows us to create a unique stacked end product. We can work with foams, films, liners, and other substrates to get you the look you need.
Meet Strouse, Your Leading 3M Supplier
If you need someone to partner with for your converting needs, you want to be sure you choose the right one. Strouse is trusted by 3M because we've developed trust. We solve problems with their converting needs because we consider all the factors it takes and develops a solution that's right. And we can do the same for you.
Whether you need help with applying the High-Performance 468MP Adhesive Tape or you're looking to solve a particular problem with a current application, we can help. Our team of experts has access to everyone at 3M. We leverage our 3M partnership to bring those experts and their wisdom to you.
Because Strouse is the 3M Preferred Converter & Supplier of the Year we have earned their trust. This trust grants us access to cutting-edge materials and products. Months before the public knows about new releases we learn, and we always look at how these products can help our customers.
Find Out More
We've been in business for over 30 years, and we are confident we can bring all that experience to you and your project. We want to know how we can help you reach your goals because that's how we reach ours.
Contact us today to learn more about our capabilities or to schedule a chat about your latest project.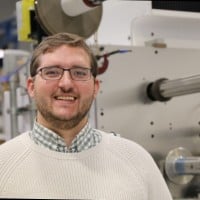 Scott Chambers
As the VP of Sales and Marketing for Strouse, Scott oversees Strouse's Go-To-Market Strategy. Scott has a BS in Business Management from Coastal Carolina, a JD from the University of Baltimore School of Law, and an MBA from Indiana University.