Welcome to our ongoing blog series featuring the many advantages of thin bonding. Check out this page if you're looking for specific information on double sided tape.
Why dedicate so much attention and digital space to thin bonding? Because it's a virtually invisible, super-strong bond for nearly any material in almost every industry. And that just begins to tell the story of thin bonding. There are so many benefits; we need an ongoing series to share them all.
Instead of liquid adhesives or bulky fasteners, customized thin bonding gives you ultimate design freedom. It provides production flexibility, as the liner stays in place until the second substrate is ready. Conformability. High initial adhesion. Strength. From climate-controlled indoor environments to harsh outdoor spaces, thin bonding offers high-performance versatility for nearly any condition.
Enjoy this overview of thin bonding. Let's look at the importance of surface energy, how substrate surfaces drive adhesive selection, and how the manufacturing processes of double sided tape and adhesive transfer tape — the two main thin bonding types — may be the same but may be different, too.
Surface Energy
Before we can address anything as specific as types of permanent double-sided tape or transfer tape applications, we need to understand how the surface energy — both low surface energy and high surface energy — of substrates is critical to adhesion.
Let's step back and define surface energy. Adhesion is determined by the molecular force of attraction between materials. How strong that attraction is depends on the substrates' surface energy. High surface energy = powerful molecular attraction. Low surface energy = weak attraction.
Examples of high surface energy substrates: metal, glass, nylon, polyester, epoxy paint, PVC rigid. Examples of low surface energy substrates: powders and coatings, composites, acetal, polystyrene, PVA, polyethylene, polypropylene, and other plastics.
If you remember one thing about surface energy, it should be this: microscopic-level features make a huge difference, and adhesives need to be selected to match each specific substrate.
Substrates, Applications, Formats
With so many different substrates that could be bonded and so many surface energy possibilities, it's no surprise that there are thousands of types of thin bonding tape. That's why the guidance of an experienced converter is invaluable.
Naturally, what is being bonded largely determines how you should bond it. You must consider not only the substrate, but its composition and the physical shape of that substrate (mostly how flat it is). Plus, think about how flexible the thin bonding needs to be to stay adhered to the substrate. Now, take into account the environment in which this solution will be used; temperature and moisture are the two most important factors.
Finally, consider what type of bond is required; a permanent bond or a removable bond. Some permanent tapes on a high energy surface would be a perfect removable tape on a low energy surface.
Simple bonding doesn't seem so simple now.
One more consideration: stability. Is it part of the adhesive's purpose to add stability to the solution? If so, a double coated tape is likely the answer because it has a carrier in the middle, while adhesive transfer tapes do not, making them thinner and much more flexible. If the substrate material provides the stability (and not the tape), it opens up the possibilities.
So, what kind of applications are right for thin bonding? This list could get huge, but these should provide a good idea of thin bonding's uses: medical devices, auto interiors, consumer appliances and electronics, construction equipment, industrial machinery, marine parts, stick-to-skin, signage/graphics, sporting equipment, and many more.
A quick word on formats. Using tape from a roll is the most common, easily recognizable format, yet many applications require thin bonding solutions to be a specific size and shape. A converter helps determine not just specific adhesives (and carriers if it's double coated) for each product, but the precise format needed for that application. Tapes are converted and supplied as rolls or sheets, and they're configured depending on the application (machine applied or manually applied).
Double Sided Tape. Differentials. Adhesive Transfer Tape.
Before jumping into types of thin bonding solutions, this is a good spot to list all the advantages of thin bonding, some of which haven't yet been discussed.
Design — virtually invisibility and custom shapes enhance design
Strength — these are high-performance solutions
Production flexibility — leave liner in place until the second substrate is ready
Exact bonding — from low-tack to permanent bonding
Soundproofing — some tapes also reduce vibration
Water-resistance — resists contact with water or other liquids; possible submersion
Temperature — performs in a certain environment, from -40°F up to 200°F
UV light — resists ultraviolet rays (natural and artificial)
As started earlier, structure is the main differentiator when it comes to double coated products. The key component is the carrier, which can range from a 3 mil PT to a non-woven scrim. It depends on how much stability the tape is expected to add. Double coated products' stability also makes them more converter-friendly, using manufacturing processes without as many limitations as adhesive transfer products.
Here are two specific double sided tapes to meet today's growing demand. As more industries use low surface energy plastics, adhesives need to work without needing flame or corona treatment or solvents, so 3M developed 300LSE adhesives specifically for those substrates. Similarly, acrylic foam tape is lightweight, 10 times stronger than rivets, easy to apply, and not messy; 3M's VHB tape is a classic example.
Differentials, a type of double coated adhesive, means simply bonding unlike substrates together which, as we learned earlier, may require different adhesives on each side to match that surface energy.
Differentials could also mean bonding the same substrates together, but you want the adhesive to release from one (or stick more to one for some purpose). The bond needs to be stronger on one substrate so that every time the adhesive pulls off, it comes off of one selected substrate and not the other. A wearable medical device needs to let go of a patient's skin and stay with the device when it's taken off and thrown away.
There are stock differential adhesives available, but the choices are limited. A high-end converter can create a custom solution, if needed. For example, two adhesives that perform well on two different substrates can be combined (along with a carrier in the middle) to create the perfect differential for a particular solution.
With no carrier and ultra thin, adhesive transfer tapes are typically pressure sensitive adhesive (PSA) tapes. They're engineered to streamline product designs (thinner = less bulk) and make manufacturing easy.
In addition to being the thinnest bond achievable (boosting design aesthetics), the main advantage of adhesive transfer tapes is their flexibility. For instance, circuit boards require a flexible tape, and high-end graphics need to apply without bubbles or wrinkles.
Converters transform these tapes into components that meet exact specifications of a design, but that's not exactly easy. To handle transfer tapes' low tension during converting, expert engineering — the earlier used in the project, the better — is key to reducing manufacturing issues.
Enjoy this article? Check out our blog focusing strictly on double sided tape.
Ready to experience the benefits of working with a 3M Preferred Converter that knows thin bonding inside and out? Bring your questions or comments about thin bonding solutions to us: contact Strouse, or ask an engineer today!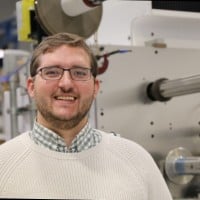 Scott Chambers
As the VP of Sales and Marketing for Strouse, Scott oversees Strouse's Go-To-Market Strategy. Scott has a BS in Business Management from Coastal Carolina, a JD from the University of Baltimore School of Law, and an MBA from Indiana University.