NOTE: This article, #2 in an ongoing blog series on thin bonding, focuses on double sided tape. To read the series kickoff, an overview on thin bonding, click here.
Of the two main thin bonding types — double sided tape and adhesive transfer tape — double sided tape is the most converter-friendly, allowing for many manufacturing processes with few limitations. Having a carrier provides stability that makes the tape easier to handle and convert into small shapes and parts.

Before exploring the many purposes this thin bonding solution may fulfill, it's important to understand how a double sided tape is made.
With pressure sensitive adhesive (PSA) exposed on both sides, double sided tape enables the bonding of two similar or completely different substrates or parts using only the tape between them. How it does this depends largely on the tape's carrier.
The Carrier Makes a Double Sided Tape Double Sided
A double sided tape's carrier is the material that separates and holds the two adhesives, one on each side. The material the carrier is made of may be paper, tissue, plastic, film, or foam, and its thickness can range from a fraction of a millimeter up to a thick foam.
A carrier's material and thickness are important when it comes to the application required for the tape to withstand. The stresses an adhesive will be under largely determines the carrier stability required. Plus, many bonding applications perform multiple tasks. For instance, a gasket performs a unique function separate from bonding, yet it can succeed at both when properly designed.
The carrier may have the same adhesive on both sides or a different adhesive on each side for adhering to dissimilar materials with different bonding properties. As seen below, after the adhesives are applied to the carrier, a release liner is applied atop one or both sides. The liner protects the adhesive from exposure until the tape is ready to be applied.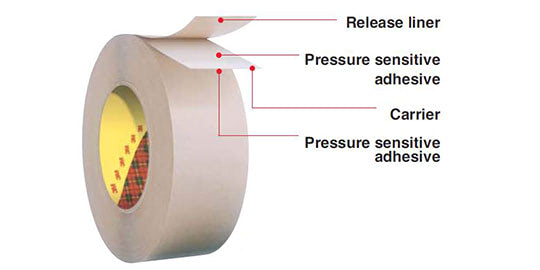 The double sided tape shown above is more complex than that of adhesive transfer tape, which is composed of a thin film of adhesive with a liner on top; just those two materials. In this blog series' next article (in one week), we'll explore the details of adhesive transfer tape.
You Have Adhesive Options
Adhesives on a double sided tape are selected to meet the bonding requirements of different substrates and for how they perform; low-tack allows the tape to be easily repositioned, permanent bonding solutions are meant to never release, and there are adhesives for everything between those two extremes.
We covered the three main types of adhesive chemistries used on double sided tape — acrylic, rubber, and silicone — in our article, "The Basics of Pressure Sensitive Adhesive Tape."
Challenges and Advantages
Now that you know how they're made, what can double sided tapes do? Well, just about anything, really. The functionality of individual tapes varies yet, in general, many double sided tapes have these challenges and benefits:
Challenges
• Limited use based on the temperature resistance of the carrier
• Conformability is reduced due to the carrier
• Limited conductivity for thermal management applications
Advantages
• Fast assembly
• Design flexibility and clean aesthetics
• Handling strength
• Moisture resistant
• Bond dissimilar and LSE materials
One more huge advantage mentioned earlier is stability. Often it's part of the adhesive's purpose to add stability, so having the carrier in the middle is perfect. As an example, one application is within membrane switches: touch panels that must withstand thousands of flexes, need a certain level of light to pass through, and must withstand high-temperature swings. Having a spacer between what is being touched and what is receiving the signal is extremely valuable to perform as expected.
What is "Differential" in Thin Bonding?
Differentials is a type of double coated that designates bonding unlike substrates together, requiring different adhesives on each side. However, differentials could also be bonding the same substrate together but using different adhesives to provide different release points.
A limited number of differential adhesives are available stock, yet custom solutions must be created by a high-end converter. For example, a particular solution may require combining two adhesives (with a carrier) to adhere two different substrates.
Double Sided Tape Manufacturers
Think about how many substrates there are, and it's no surprise to hear that thousands of types of double sided bonding tape exist. Sure, some tapes can be used straight off the roll, but some applications need to be a precise size and/or shape for that application.
An experienced converter customizes double sided tape so it performs within the final design, and converted tapes are configured for machine or manual application, again to match the application. It takes expert engineering to reduce manufacturing issues and create a reliable and consistent double sided tape.
Check back in a few weeks for the next blog in our series on thin bonding, next time focusing on adhesive transfer tape. Until then, bring us your questions or comments about double sided tape: contact Strouse, or ask an engineer today!