What's worse than a single faulty component? Probably an entire shipment of them.
It's easy to find any converting company online, but the last thing you want is to partner with a business that can't guarantee the quality of its products.
As a converting business ourselves, Strouse knows what to expect from quality manufacturing and precision cuts in a clean environment.
You deserve to know how to find a converter to build effective products. Today, we will discuss factors you can keep an eye out for when you're on the hunt for a medical converting company.
7 Factors to Consider When Choosing a Medical Converting Company
Like any other converting company, medical converting companies specialize in bringing their customer's designs from a drawing into a tangible and replicable product.
Yet, when all the medical converting companies boast similar capabilities, you might be unsure which to choose. These factors will help you narrow down your choices.
1. PROPER CLEANLINESS
Keeping things sterile is one of the principle concerns in medicine. Before you start looking for a medical converting company, you'll want to decide how clean your part component needs to be.
For instance, although there's a gap between the cost of regular manufacturing and the price of clean room manufacturing, many medical products benefit from a low-humidity, particle-reduced environment.
Manufacturing components in a cleaner environment can also reduce the amount of sterilization they need later.
ISO certification determines whether a converter has the right capabilities to manufacture parts in a clean room environment. If you're building a part that can't be tainted with particles, moisture, or hairs, finding a converter with ISO certification is likely the right choice.
2. DESIGN CAPABILITIES
Naturally, you'll want to design the best part possible, but are you directing all your efforts toward design functionality?
While the function of your medical product comes first, there's also the matter of optimizing your design for manufacturing.
Complex designs are more expensive to build, and working alongside a converter to adapt your design can save you lots of money thanks to higher manufacturability.
When searching for a medical converting company, you'll want to ask about their design and testing capabilities. Most designs aren't perfect immediately, so you'll want a converter to work with you to find the most cost-efficient way to build your product.
3. MATERIAL ACQUISITION
"We'd like to go with this material," you say.
"Cool. Where can we find it?" asks the converter.
Finding the right material can be challenging, but an excellent material converter can guide and provide resources to aid you.
Medical products often use alternative materials specifically chosen to withstand sterilization, remain clean, or conform better to the skin.
These medical materials tend to come at a higher price than regular products. Still, an experienced medical converting company will understand their necessity and understand how to purchase the most cost-effective amount based on your order quantity.
4. APPLICATION-BASED FOCUS
Part application is one of the most crucial yet overlooked aspects of product functionality. In fact, the application for wound treatment and device attachment can determine whether the adhesive serves its purpose.
Consider a stick-to-skin medical device such as a diagnostic sensor: a poorly behaved liner or adhesive backing could disturb the bond between the device and the skin and refuse to adhere properly to take accurate readings.
There's also the matter of automated application for part assembly, which necessitates far tighter tolerances than manual application for the sake of accuracy. An automated application, like a microfluidic device, might have a machined process that only functions using highly accurate converted components.
5. EXCEPTIONAL QUALITY ASSURANCE
Getting a faulty roll of tape is one thing, but medical-quality failure can mean the difference between life and death.
The best medical converting company will adapt to your needs for quality assurance and suggest options ranging from checking batch samples to meticulously monitoring each part.
6. LONG-TERM PLANNING
Planning a medical component begins long before full-scale production.
Many medical products require FDA approval, whether that's based on the design, materials, or overall part-functionality and usage. This process can take weeks, if not months, to complete and severely delay your timeline if you're not fully prepared.
Luckily, a quality medical converting company can help you plan out a timeline for material, orders, and testing in a way that accounts for FDA approval and product scaling.
7. MEDICAL MANUFACTURING EXPERIENCE
Medical manufacturing isn't as simple as slapping the word 'medical' in front of anything you make; it takes a lot of experience for any company to perfect.
Companies with medical manufacturing experience have more practice ensuring that their methods can produce clean and accurate parts that function where needed.
Finding a Medical Converting Company That Suits Your Project
Now that you've seen more of the factors involved in medical converting, you're prepared to find a company that can build your design.
Once you've pondered a company's experience and capabilities, you'll know whether they can fulfill the needs of your product.
At the end of the day, you should choose the converter that has the capabilities you need.
As a converting company that's helped build hundreds of innovative medical products, the time has come for us to throw our hat in the ring.
If you want to see Strouse's capabilities, you can check above to see how we can help you. Schedule a flexible material consultation to get advice on manufacturability and start the long road toward bringing your design from an idea into a fully finished product.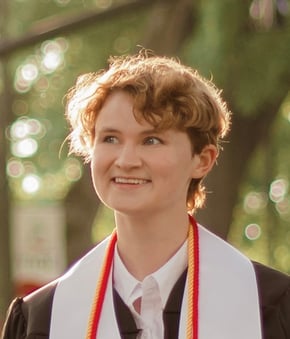 Lee K. House
Copywriter & Content Creator for Strouse. Lee graduated from the University of Alabama in the Spring of 2022 with a double major in English and Spanish.