From the label on your clothes dryer to the ones under the hood of your car, heat and chemical-resistant labels are everywhere.
Designing a resistant label requires more planning than any old sticker: it's crucial to keep the application in mind so it can withstand long-term use. At Strouse, we often help our clients find production-ready material used for heat and chemical-resistant labels that suit their products.
Regardless of what stage you're at in your project, understanding more about the factors that affect label material will help you make smarter choices and prepare yourself for the next steps.
Applications of Heat and Chemical Resistant Labels
Many automotive manufacturers place labels inside the door, under the hood, or other places in the vehicle that require heat and chemical resistance.
In aerospace applications, labels also come into contact with various fluids and high-temperature situations. Electrical appliances and components, such as printed circuit boards, often use heat-resistant and identification labels.
Identification labels, which mark individual part components, are a prominent feature in large-scale manufacturing. Specific identification labels, like medical labels, require heat or chemical resistance depending on how and where they're used
Finally, many general outdoor labels, like logos or warning labels, require heat or moisture resistance.
What are Heat and Chemical Resistant Labels Made of?
Choosing materials that remain durable under stressful conditions is necessary for building successful, long-term labels. However, the label process starts where all labels start, which is with label stock.
Label stock can be printed upon and then adhesively laminated with resistant film or overcoat material that protects the part. This gives them the same clean look as other labels but also allows them to withstand the conditions of your application.
Considerations To Make When Choosing Labels
What's worse than finally checking a label only to realize the ink has smeared or faded?
APPLICATION
Before you get any further, you'll want to consider the label application and its intended environment.
These considerations don't just stop at the base material, but also the type of printing you want to do. For instance, is the ink you use UV-resistant? How long does it need to last? These are essential questions for a custom label.
Outdoor labels require heat and UV resistance, which often dictates a form of overcoat, lamination, or label stock material. However, a label intended for a car engine would require solvent resistance and heat protection.
With every adhesive, you'll need to consider the surfaces you're bonding to and what heat and chemically-resistant adhesive to use.
MATERIAL SELECTION
If you're looking to make high-temperature labels, you'll need material that suits your intended range. Part of this is determining whether your application needs to be capable of withstanding multiple temperature cycles.
LIFESPAN
Your label's intended lifespan is crucial in determining what material and adhesive to choose. You can use a weaker, or low surface energy adhesive for a temporary label to avoid leaving marks behind.
On the other hand, if your label is intended for the long term, you'll want to ensure you have a suitable adhesive to attach it to a particular surface.
How To Acquire Custom Labels
Now's your chance to consider the best avenue for custom labeling.
Suppose you're looking for a small handful of durable labels for a personal project. In that case, you'll benefit from seeking out heat and chemical-resistant labels from a larger retailer before looking at other options.
Customizing labels through a converter makes sense for businesses needing larger product quantities, but otherwise, understand that the minimum material order quantity for specialty label material can form a hefty bill.
Finding custom labels to fit your application might be challenging, but it's easier once you contact a trusted flexible material converter.
A good converter will point you toward a supplier and help you choose a material. If you're hoping to get your material or design evaluated for part manufacturability, now's the time to see how feasible your upcoming project is.
Feel free to get your design evaluated for manufacturability above, or learn more about heat and chemical resistant materials in our Learning Center.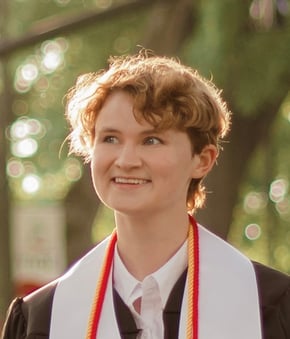 Lee K. House
Copywriter & Content Creator for Strouse. Lee graduated from the University of Alabama in the Spring of 2022 with a double major in English and Spanish.