"Assuming I did place an order, when is the soonest you could have it ready?"
Urgency doesn't always look like sprinting out the front door with breakfast toast hanging out of your mouth; sometimes, you've simply recognized the necessity of timing an order correctly for the sake of your final product. However, it can be challenging to predict custom die cut timelines with 100% accuracy when many potential delays are involved.
As a converter who's previously worked with hundreds of suppliers, Strouse is packed with experts at juggling deadlines. We know that even with a running list of everything you need, it's far too easy to suffocate under the weight of a sticky note mountain.
Although every custom product takes a different amount of time to manufacture, knowing the general timeline will still prepare you to work with your converter and plan accordingly.
How Long Does it Take to Make Custom Die Cut Parts?
Ideally, you'd have your answer the moment you asked, but it's impossible to generalize CUSTOM die cut parts because the time they'll take to build will vary.
Yet, even though certain stages take far longer than others, you can plan around them for a quicker manufacturing process. When reviewing the phases of custom die cut parts, consider how you might prepare to avoid project delays in the long term.
The 6 Phases of Making Custom Die Cuts
Every converting project will vary.
You may not see every phase in the process, but they should indicate how converters will pace out your project and where you might encounter the most considerable delays.
When reading about each phase, consider whether they can become pain points and how you would handle any issues that might spring up.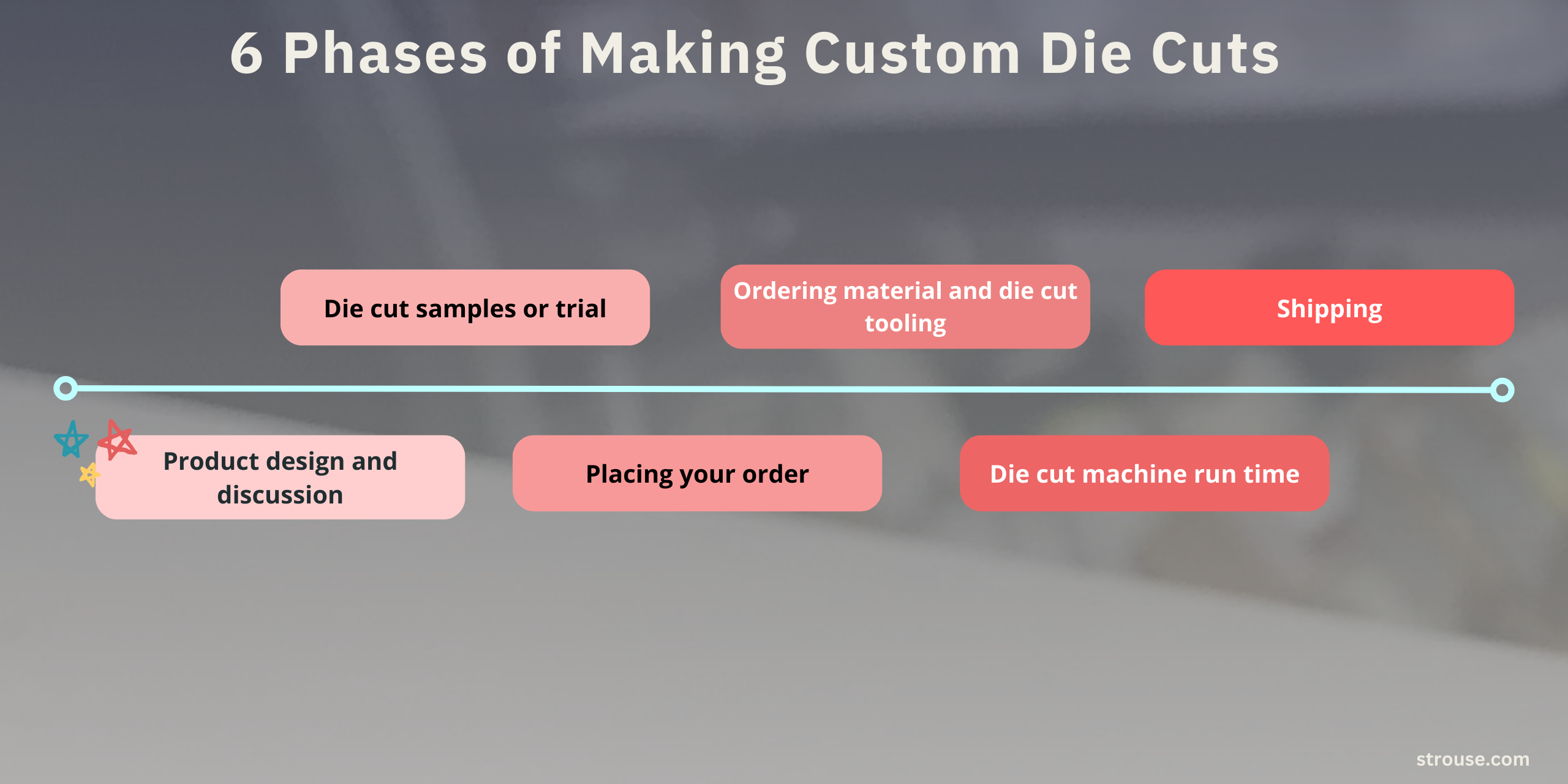 Generally, the entire project timeline is most affected by the initial status of your finished design, the complexity of your part, and material shipment.
As you learn what to expect during the journey with your manufacturer, you'll begin to recognize these time drains and learn how to collaborate on your design or materials earlier to avoid facing issues later in the process.
1. PRODUCT DISCUSSION AND DESIGN
You might have fully-realized digital sketches and prototypes of your product, but it's equally as likely you only have an idea and a napkin drawing. Before receiving custom die cut parts, you must navigate the discussion and design process.
While your product discussion might not seem urgent, it's crucial to approaching any manufacturer. This discussion is more of an ongoing conversation than a singular instance, and it encompasses any information you disclose about the application of your product.
Understanding how your product is used will allow a converter to make any necessary design adjustments during the process and aid them in selecting a suitable material.
The product design phase can take days to months of working with a converter, depending on how far along you are and whether it's challenging to transform your design into a custom process.
Do you have a part drawing? Have you included the necessary measurements in your design? If so, you're at a good place in the process.
Even with a starting drawing, it might take days or weeks to create a custom process, meaning to devise a method to run your product through all the required processes in a single pass. Seemingly simple designs can be complicated to run, and we may recommend trials if you have a complicated process.
Knowing how much sway your design and discussion have over your initial process, prepare to spend a significant amount of time discussing your part's application and design, and come prepared with an accurate drawing and an idea of the material you want if you're looking to save time.
2. DIE CUT SAMPLES OR TRIAL
Samples aren't a time drain, but they're worth mentioning for a clearer picture of the timeline. Not every customer requests samples, and not every project requires a die cut trial.
At Strouse, we offer a 48-hour service for producing samples. Once we have the material, we can quickly create products for you to test and observe.
Producing samples is a rapid process, but it's common for customers who already asked for samples to request adjustments after they receive the first batch. Therefore, we might go back and forth until you're satisfied with the current design and material.
Trials take longer to set up than samples because they could require an order of material and tooling. While most of our samples are laser cut, we do trials on-press for more complicated parts, which we'll explain during Machine Run Time.
3. PLACING YOUR CUSTOM ORDER
Suppose you've had a successful sample or trial and already requested a quote. You'll receive a project quote within a few business days, and you can then decide whether to place an order.
Although we aim for the quickest possible turnaround, this step is when Strouse finalizes the details of your order. At best, your purchasing acknowledgment might take a few hours. At worst, it might take a few days. We first validate the purchase order matches the quote, and the quote is still valid. Next, we order your material and die cut tooling, choose a machine operator, and schedule press time.
As soon as you get the email detailing your purchase acknowledgment, you'll know the order is in our system, and we're preparing to run it on schedule.
4. ORDERING MATERIAL AND DIE CUT TOOLING
Material lead time is by far the longest step in the process due to shipping delays, dwindling material supplies, and other obstacles.
If a supplier processes quickly, the material lead time could be as short as a couple days. On the other hand, if you're ordering from overseas, it could take months to come in.
Strouse processes thousands of different materials yearly, so keeping a vast supply of specific materials (often prone to expiring) is only possible with an ongoing reason. As a result, we order our material from suppliers after we receive a purchase order.
The material lead time determines how soon the machine can run and when you'll receive your parts, so unfortunately, it's often the catalyst for unwelcome changes in schedule.
The material lead time is the starting point for the timing of your order. Making an accurate timeline prediction will be challenging until you've confirmed your material choices with a converter.
Apart from the material suppliers, we also work with die cut tool manufacturers to build tools based on your design for jobs requiring rotary or flatbed die cutting. The die cut tool lead time can be relatively quick, but it could become longer if you order multiple tools or ones with complex designs. Most times, the material lead time will trump the die cut tool lead time.
5. DIE CUT MACHINE RUN TIME
Multiple actions are involved in die cut machine run time: setting up the machine, inspecting the part, running it, and dissembling it afterward.
Setting up the die cut machine depends entirely on the part's complexity, which can translate into hours, or even days of labor time. Yet, after the press has been assembled, converters often run thousands of parts in minutes.
If you're looking at the timeline as a whole, machine run time makes up a small portion of the total time it takes to get your parts. Most jobs can be run in a day or two depending on quantity. If you're producing a lot of parts at once, this analysis may change, but ultimately, the lead times for material will significantly outweigh this step.
6. SHIPPING YOUR CUSTOM DIE CUT PARTS
You're twiddling your thumbs at your desk, wondering if you should send a follow-up email. What's the latest update on those parts you ordered?
Unless we've contacted you prior with a notice of a delay or a re-date, you can rest easy knowing your order is in progress until you receive the shipment notice. The shipment notice will include your tracking number and any other pertinent information, and all that's left afterward is to prepare for your order's arrival.
What Can I Do To Improve My Die Cut Lead Time?
The best way to improve your die cut lead time is by planning your projects far in advance and coming prepared with a design.
Your design doesn't need to be perfect. In fact, converters can benefit from some flexibility regarding the die cut tolerances. However, starting from an idea will take a lot longer until you're ready to answer technical questions from a converter.
If you're hoping to overcome future lead times through planning, consider placing a blanket purchase order so your converter can prepare the necessary material and tooling in advance.
It's no easy feat to align your production timeline with everything else, especially if your company is a startup. Knowing your production timeline lets you plan project goals to align more closely with the manufacturing process.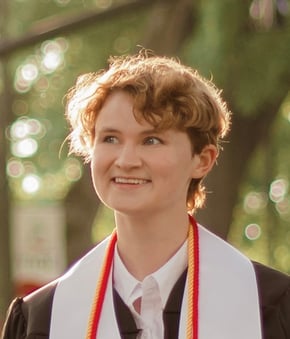 Lee K. House
Copywriter & Content Creator for Strouse. Lee graduated from the University of Alabama in the Spring of 2022 with a double major in English and Spanish.