Automotive manufacturers are throwing away thousands of dollars a month in rework costs.
Imagine the incredible amount of hazards a vehicle is exposed to between the time it's manufactured to the moment it hits the showroom floor: debris, dirt/dust, gravel, UV rays, etc.
Surfaces could potentially be dented, dinged, or scratched in so many ways, and manufacturers must pay rework costs to make that vehicle "showroom floor" worthy. After all, a flawless paint finish is expected by customers.
Surface Protective Films (and Converters) to the Rescue!
Keeping vehicles in pristine condition between manufacture and dealership delivery is a challenge. Automotive manufacturers have relied on surface protection films of various kinds, which are highly effective when applied correctly.
What is a protective film? It's a protective membrane (often made from elastomeric polymers and usually urethane-based) that protects critical product surfaces from abrasions and other damage while maintaining the vehicle's aesthetics. To succeed in the auto industry, the film must be easy to apply and remove, and it can't leave a residue behind.
One of the biggest struggles for automotive manufacturers is stretching their already tight budgets. One logical solution is to get the most for their money by purchasing large rolls of adhesive films. However, these are rarely available from adhesive manufacturers in the exact widths and lengths that are convenient for manufacturers' assembly processes.
That's where converters make a huge difference in 4 essential ways:
1. Help determine the best materials for specific application challenges
2. Source them from adhesive manufacturers/partners
3. Leverage their partnerships to secure reasonable costs
4. Add value to the materials by converting them to custom lengths, widths, sizes, shapes, and formats
That final point is key. Technological advancements being innovated by adhesive manufacturers require more and more industry knowledge and insights to maximize their benefits. An expert, full-service adhesive converter is ready to capitalize on these advancements in technology and deliver usable, valuable components.
Innovative Surface Protection Solutions
• Surface Protection Films Cut to Unique Dimensions
Some manufacturers attempt converting in-house, usually with rolls of protective film that are too wide or too thin. Cutting these materials accurately with a knife or scissors is not only frustrating, but it also slows down production. A converter die cuts plastic protective film for cars to custom shapes and sizes; so hassle-free, consistent coverage is guaranteed.
• Surface Protection Films Cut and Wound on a Roll or as Individual Pieces
The perfect die cuts to protect automotive surfaces are important, yet it's crucial not to overlook how they will be applied: will a machine place the parts, or will assembly be done by hand? A converter provides die cut parts on a roll, on a sheet of liner, or as individual pieces with a backing to protect the adhesive.
• Tabs
Applying and removing adhesive can be difficult, but it doesn't have to be. A converter designs tabs into custom parts that assemblers hold, so placing the part during assembly is easy and doesn't wrinkle or disturb edges. Tabs also speed up removal; no more picking at the adhesive, which risks scratching the surface.
• Kits
When assemblers have multiple areas to protect, it can be easy to overlook things and leave critical areas unprotected. To enhance quality during this repetitive process, a converter creates kits to ensure assemblers place all necessary parts in sequence before moving onto the next task. Multiple kitted parts can be placed on a single sheet of liner, wound on a roll, or supplied as individual pieces.
• Sequenced Parts in a Kit
Assemblers may need to mask multiple areas on a product or vehicle before moving to the next product. A converter cuts and places different sized/shaped parts in a kit designed to give assemblers exactly what they need when they need it.
Example: A team's process for applying protective masking goes from the right tail light to the spoiler to the left tail light and so on. The masking die cuts for these different areas can all be supplied in a kit so that the assembler can move from one area of the vehicle to the next without having to find the right die cut part.
• Color Coding
In automotive manufacturing, there are often vehicle parts of the same model but varying sizes appearing on the assembly line. A converter provides color-coded masking die cuts to make it easier for assemblers to recognize which die cut parts are needed for specific sizes.
Example: Strouse has used color coding to help Ford protect millions of wheels, so they still have a brand new shine by the time they reach the showroom floor.
These surface protection solutions use automotive protective film in innovative ways to reduce rework expenses and boost production rates with streamlined assembly processes.
Strouse, a 3M Preferred Converter, has engineers ready to help you design the right surface protection solution for your automotive assembly process.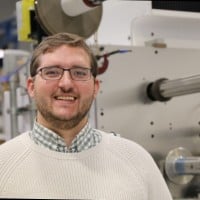 Scott Chambers
As the VP of Sales and Marketing for Strouse, Scott oversees Strouse's Go-To-Market Strategy. Scott has a BS in Business Management from Coastal Carolina, a JD from the University of Baltimore School of Law, and an MBA from Indiana University.