Maybe you're looking for a high-durability sealing tape.
After some research, you've found yourself in the position of deciding between acrylic and hot melt tape. But which is the better choice for you?
While Strouse admittedly works with more acrylic tape, we still know enough about hot melt tape to compare the two. The truth is, your tape choice will depend almost entirely on your intended purpose and application.
To help you make the best choice, let's discuss the differences between acrylic vs. hot melt tape and how either material could be better suited in any given situation.
What are Acrylic and Hot Melt Tapes?
While they can be used for similar purposes, acrylic and hot melt tape have differences that can impact their effectiveness for any project.
WHAT IS ACRYLIC TAPE
Acrylic tapes are made by applying resin-based adhesives to foam and adding paper or film release liners. Acrylic tape is commonly used for extreme-temperature or high-strength applications such as cold environment sealing or attaching vehicle trim.
WHAT IS HOT MELT TAPE
Hot melt tapes are made up of thermoplastic polymers and are most commonly used in packaging and shipping, largely sealing cartons and forming strong attachments between recycled materials. Hot melt tape can also be utilized for molded parts, tubing repairs, and protection against chemicals or salt water.
Some hot melt tapes are applied in normal operating temperatures, however, others will require higher temperatures to activate. This is what is commonly referred to as heat activated adhesives.
Acrylic vs. Hot Melt Tape
Acrylic and hot melt tape are both robust bonding materials used for packaging and sealing purposes. When deciding between adhesive tapes, factors like length of use will be highly relevant to your choice.
For instance, hot melt tapes might gradually begin to yellow, whereas adhesive tapes remain aesthetically the same. This potential change in color is only one of their key differences.
WHY USE ACRYLIC TAPE
Acrylic tapes can be UV and thermal-resistant, withstand outdoor use, and remain durable in many applications.
Due to their lower temperature capabilities, acrylic tapes are often chosen for refrigerated storage purposes.
The heat resistance of acrylic tape is a relatively wide range that depends on the type you're using. For instance, heavy-duty double-sided acrylic tapes might last you from -20°F to 400°F (-28°C to 204°C), while acrylic packing tape might only withstand 32°F to 140°F (0°C to 60°C).
Another significant advantage of using acrylic tape is its manufacturability. Acrylic tape can be die cut and converted into detailed shapes to serve as product components. In fact, die cut converting is often performed using VHB tape, one of the more popular double-sided acrylic foam tapes.
Acrylic tape is an aesthetically pleasing or more stable replacement for mechanical fasteners. Depending on the material, size, color, bonding strength, or structure you seek, there are many variations.
Many acrylic tapes are resistant to oxidation, UV light, humidity, and dust, making them ideal for long-term storage as well as outdoor use.
WHY USE HOT MELT TAPE
Regarding adhesive bonds, hot melt tape is quick tack with a lot of tensile strength.
The heat resistance of hot melt tape can withstand from 45°F to 120°F (~7°C to 48°C). This is a shorter range than acrylic tape, but hot melt sealing tape is also known to have a higher tensile strength, meaning it can withstand more external stress or stretching and therefore support heavier packages/loads.
The durability of hot melt tape also lends itself to sealing irregularly shaped objects for longer periods of time.
Hot melt tape can utilize a higher heat-activated adhesive, such as thermoplastic materials, which become more liquid when exposed to heat and can flow into uneven surfaces. Melt viscosity and flow allow hot melt tape to cling and form a stronger bond.
Generally, hot melt tape is easy to unwind and flexible, making it useful for machine-applied situations or other automated processes. Yet, any hot melt tape that is a heat-activated adhesive MUST be exposed to higher temperatures (often 180°F+) to bond fully.
Choosing the Right Adhesive Tape
Acrylic and hot melt tape are both powerful sealing tapes with many benefits, but choosing between them will depend on the product's purpose.
Hot melt adhesive might be your preferred choice if you want to seal recycled materials or heavier/oddly-shaped/bulkier objects and containers. Yet, acrylic tape is likely the better option if you're searching for something that reacts better in outdoor conditions and withstands extreme temperatures,
Acrylic tapes can form bonds without the additional step of using a heat gun or similar tools, but hot melt tapes can create more powerful connections due to their composition.
Are you still conflicted about material selection?
Maybe you're hoping to test your adhesive shape to see whether it suits your product's design. Get your part evaluated by a flexible material converter to get expert advice on part manufacturability.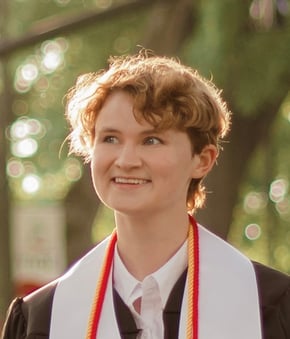 Lee K. House
Copywriter & Content Creator for Strouse. Lee graduated from the University of Alabama in the Spring of 2022 with a double major in English and Spanish.