It's rare, but once in a blue moon, I'll land on a question that makes an engineer go: "Uhh."
Me: "What's the difference between hot melt and heat-activated adhesives?"
The engineer: 😬…
What may seem obvious to an adhesive expert could be challenging to put into words (case in point: I couldn't find the answer anywhere online).
Yet, when hunting for the best adhesive, you'll want to know as much as you can about the differences between the types of adhesive you're considering.
You might be on your way to becoming an adhesive expert, but that doesn't mean you're a full-on master yet. At Strouse, we want to further your chances of developing an effective project solution by offering what we know about adhesive applications.
If you're working on an application for hot melt or heat-activated adhesive, don't worry; we'll dive deeper into both materials and compare them so you can fearlessly select an adhesive that fits your project.
WHAT ARE HOT MELT ADHESIVES?
Hot melt adhesives are a type of thermoplastic resins that fall under the umbrella term of heat-activated adhesives.
Hot melt adhesive comes in a solid that can be melted and applied using a glue/spray gun or purchased in the form of hot melt adhesive tape.
Once hot melt adhesive has been applied to a backing to create hot melt tape, it may not require heat activation. While many thermoplastic materials can be re-melted when necessary, thermoset materials have already been heated to a specific temperature and bonded.
Hot melt adhesives are liquid thermoplastic, but most hot melt tapes are already thermoset into their final form. These hot melt tapes function similarly to acrylic tape, forming powerful bonds that seal objects together.
Generally speaking, hot melt adhesives can be used as an alternative to solvent-based adhesives. From mounting and trim attachment to electrical component manufacturing, businesses use hot melt adhesives to create powerful bonds between materials like foams, LSE plastics, and fabrics.
WHAT ARE HEAT ACTIVATED ADHESIVES?
Heat-activated adhesives are solid, non-tacky adhesives that require a temperature increase for application. They are made up of thermoplastic materials and can be used on backings and other materials to create heat-activated tape.
One perk of using heat-activated adhesive is the re-positionability. If there's ever an issue of misplacement or a situation where two bonded materials need to be separated, you can detach them by re-heating the adhesive.
Heat-activated adhesives also work on surfaces that many films don't function properly on. For instance, aluminum foil, polyurethane, PVC, and rubber applications are all ideal for heat-activated film's tactile strength and maneuverability.
Common uses for heat-activated adhesives include induction curing, shoring leaks, lamination, forming, and thermoplastic welding.
Hot Melt vs. Heat Activated Adhesives
Although they sound similar and are often used interchangeably, hot melt and heat-activated adhesives can refer to two different sets of materials. While hot melt adhesives tend to be heat-activated, not every heat-activated adhesive is hot melt.
Heat-activated adhesives require heat upon application to form a strong adhesive bond. On the other hand, hot melt adhesives might only utilize heat during their creation process.
This is to say that many hot melt adhesives are heat-activated, but others (such as hot melt tapes) have already been thermoset and don't require heat for application.
Unlike heat-activated adhesives, which remain solid and non-tacky until heat exposure, most hot melt tape can be applied off the roll without extra steps.
Should I Choose Hot Melt or Heat Activated Adhesive?
As with any other product material, your adhesive depends mainly on your intention and application.
Hot melt and heat-activated adhesives share many traits, so the main deciding factor for making a choice is application.
What is the environment of this application? How are you planning on physically applying it? What materials is it going to be bonding to? How long is your ideal application time?
With such a wide range of possibilities, it's worth asking your converter whether one material makes more sense for your design. Depending on your answers, certain heat-activated or hot melt adhesives may make the most sense depending on the viscosity and bonding strength of the individual material.
Before you run off searching for specific products, remember that your part's particular conditions, surfaces, and design will determine which adhesive functions best.
Consider asking a flexible material converter to evaluate your part for material recommendations and advice on product manufacturability.
Are you still wondering about different adhesives? Maybe you've still got some more design work to do.
You can still submit your part for design evaluation or find more information on converting, flexible materials, and product manufacturing in our Learning Center.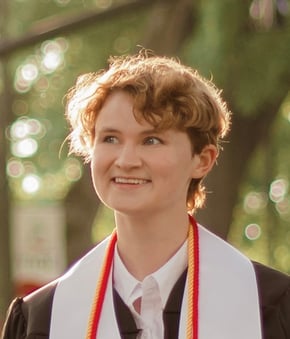 Lee K. House
Copywriter & Content Creator for Strouse. Lee graduated from the University of Alabama in the Spring of 2022 with a double major in English and Spanish.