Welcome to the conclusion of our 3-part series on pressure sensitive adhesive tape. In Part 1, we discussed PSA's performance and versatility, and Part 2 covered 3M™ VHB™ tape as a superior bonding solution.
Today, our topic is not PSA tape itself, but rather the importance of the adhesive converter that takes raw material and transforms it into a usable, valuable product. We've broken our exploration into four segments, each critically important to successful use of pressure sensitive adhesive tape.

With the use of pressure sensitive adhesive tape (PSA) steadily increasing in popularity, many companies are "getting in on the action." Yet, that's not so easy. There are numerous PSA types and many options that solve adhesive bonding challenges. Not every converter has the experience, technical adhesive know-how, and design capabilities to take on complex products.
The vital task of choosing an adhesive converter requires some thought. Here are four reasons to be patient, deliberate, and thorough when evaluating potential partners:
1. Solutions from Beginning to End
2. Problem-Solving Mindset
3. Budget Focused
4. Industry Connections
Reason #1: Solutions from Beginning to End
First, a clarification. A pressure sensitive tape, as its name implies, requires pressure to bond. If anything else is needed — a solvent or heat, for example — the tape is not a "pressure sensitive adhesive (PSA)" tape.
That said, as adhesive technology develops, PSA tape becomes easier and easier to use, as well as less costly than traditional fastening solutions (rivets/fasteners, welding, liquid/spray adhesives, etc.). The main reason tape is so easy to use is because it can be converted to custom sizes and shapes. This allows it to perform properly and reflect an engineer's design.
The right adhesive converter smoothly handles the entire process from concept through finished solution, including selecting the right material. If the right adhesive material for the job doesn't exist, the converter creates the material to meet the demands of the application (more in the next section).
Scientific advancements can only take you so far. Even the most advanced adhesive tapes on the planet are limited when not in the hands of the right converter. The end goal is always to create a quality adhesive solution that's customized to meet a company's needs. Many times, that demands end-to-end attention and in-depth expertise.
Reason #2: Problem-Solving Mindset
No matter what the industry, a converter's manufacturing capabilities need to provide the material in exact sizes, shapes, and formats. And "exact" really means exact! Tight-tolerance die cutting weighs heavily in determining a project's complexity (and cost).
Drawings that come to a converter from the customer may include an over-engineered tolerance. The right converter takes the time to discuss tolerance with a customer's engineers to evaluate where tolerance is critical and where there may be flexibility.
This is just one example of a problem-solving mindset. Converters who take orders are a dime a dozen, while converters with comprehensive thinking — from "big picture" down to release liners — deploy various capabilities to achieve powerful results for that project.

What kind of converting capabilities are we talking about?
• Die Cutting
• Slitting
• Spooling
• Flexo and Digital Printing
• Automated Assembly
• Laminating Multiple Materials
• And more
Reason #3: Budget Focused
Regarding capabilities, it's not enough to be able to convert tape to custom lengths/widths, sizes/shapes, and formats. Truly solving an application challenge must include creating positive business outcomes, which means considering costs.
Out of the gate, PSA tape is easier to use and less costly than traditional fastening solutions. Yet, if at any point costs can be cut while maintaining superior performance and/or improving process efficiencies, it's considered an impressive win. The right adhesive converter invests time in understanding and meeting your needs and your budget.
Reason #4: Industry Connections
A converter can't really know PSA tape inside and out without having a close connection with high-end manufacturers. In the adhesive world, that's impossible without including 3M.
A 3M Preferred Converter has access to the latest and most advanced adhesives and regular contact with 3M's laboratory and design engineers. These top-end converters may even be asked to test new technology and innovations in PSAs and other adhesive materials, such as VHB tape.
Support from 3M experts makes finding the perfect solution for a unique challenge much more likely. The icing on the cake? Being a trusted partner raises that converter's status in the 3M queue, which helps speed up customer deliveries.
The industry's top converters have a lot to offer. To maximize their expertise, they should be treated as a partner in developing a PSA tape solution. It goes beyond converting into creating full, end-to-end solutions, thinking like a problem-solver, focusing on budgets, and leveraging industry connections.
If you haven't read the other parts in this series, we recommend checking them out: In Part 1, we discussed PSA's performance and versatility, and Part 2 covered 3M™ VHB™ foam tape's superior bonding. Thanks for reading; we hope 2021 has gotten off to a great start!
Discuss your products and needs with a Strouse adhesive conversion specialist today. Want to dive deeper into flexible material converting? Download our Q&A guide by clicking the button below.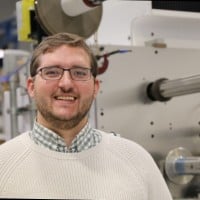 Scott Chambers
As the VP of Sales and Marketing for Strouse, Scott oversees Strouse's Go-To-Market Strategy. Scott has a BS in Business Management from Coastal Carolina, a JD from the University of Baltimore School of Law, and an MBA from Indiana University.