The most reliable bonding adhesive, 3M 200MP, is now paired with newly developed release liners that allow for easy application and the most accurate tight tolerance die cutting the industry has to offer.
Westminster, Maryland - June 30, 2014 - For the last 30 years 3M 200MP adhesive has set the standard for bonding adhesives . 3M 200MP is an acrylic adhesive that bonds substrates from high surface energy plastics to metals for every industry. This proven adhesive can be found in any application ranging from medical devices and electronics to automotive and appliance parts. 3M 200MP will now be constructed using new 3M technology - layflat liners, available at Strouse today.
While 3M 200MP has been a standout product for the last 30 years, the product has had a tendency to be difficult to work with when exposed to humid environments. High humidity can be problematic for any sort of flexible material, but especially acrylic adhesives. High levels of humidity in storage, processing and converting, shipping, and final product usage can alter the final converted part resulting in product failure. Curled parts, tunneling or buckling, edge scalloping, cockling, and rippling adhesive all are defects seen on acrylic adhesives once subject to high humidity conditions. 3M's new layflat liner solves each of these issues.
The new 3M layflat liner will be the standard liner supplied on 3M 200MP adhesive. Layflat liner is a special polycoated paper construction that improves dimensional stability when exposed to high humidity environments. The new liner also improves sheet processing and productivity and creates a more precise die cut part that will not curl. Layflat liner ensures a consistent and uniform coverage of adhesive for a stronger bond.
Strouse is a die cut adhesive manufacturer with over 25 years of industry experience. Serving the medical, automotive, military, appliance, and renewable energy industry, Strouse continues to innovate. With a quality management system currently registered to ISO 9001:2008 standards, Strouse not only has a commitment to quality but excellent customer service. A full team of design and development engineers allows Strouse to invest the necessary time and resources for each and every project. Located in Westminster, Maryland, Strouse can be contacted directly at 1-800-410-8273 or visit our website for more info at https://www.strouse.com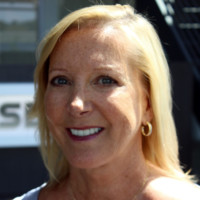 Sue Chambers
As the CEO and President of Strouse Corporation, Sue Chambers is responsible for leading all facets of the business. Sue has a proven executive management track record and over 20 years of experience driving sales growth and operational innovation in the adhesive conversion industry. Sue possesses strong leadership, strategic vision, and savvy marketing skills. Sue has an MBA from Loyola University in Maryland. Since 1997 Sue Chambers joined Strouse and led the transformation into an enterprise-focused company while growing the company into a world leader in the innovative production of pressure-sensitive adhesive with revenue of over 20 million and growing. In the last three years, Strouse revenue has grown 62%; the number of employees has grown and continues to achieve and maintain ISO 9001 and ISO 13485 certification. Strouse built a new production plant going from 40,000 to 62,500 square feet, increasing the production space by 50%. The building also can expand to 82,500 sq. Feet. Sue is active in the community serving on the Industrial Development Board presently and earning several business awards over the years. Most recently, 3M has recognized Strouse as a supplier of the year. She is also on the Dale Chambers Foundation board that raises money for local charities in the community.