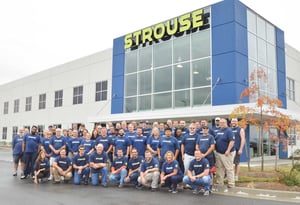 CAREERS
Become a Machine Operator
About The Position
The Machine Operator is a key position in the Production Unit of this company due to the complexity of custom products and the skill required to create them. The Machine Operator is a skilled member of production, provides leadership to the Machine Operator Trainee and reports to the Production Manager.
Responsibilities
Print and/or Convert raw materials to meet customer expectations as detailed in the job jacket

Implement quality control procedures on all jobs using quality checks as defined by the Production Manager

Perform appropriate packaging and shipping method for products and customers

Create labels and implement label changes utilizing the Easy Label programs on the Tharo printers

Maintain information concerning jobs and customers on the job jacket, e.g., improvements on quality, changes in the way it was run, etc

Report the number of hours for each job on the work order and give to the Production Manager

Report to the Production Manager prior to starting and immediately upon completing jobs

Train new Machine Operators and Machine Operator Trainees

Perform routine maintenance on machines.

Perform other related duties to contribute to the success of the operation as assigned by manager
Position Requirements
High School Diploma or G.E.D and 0-2 years experience

Proficient use of hand tools

Basic to intermediate computer skills

Good communication skills
Physical Demands
The physical demands described herein are those that must be met by an employee (with or without reasonable accommodation) to successfully perform the essential functions of the Production Assistant:
While performing the duties of this job, the employee is regularly required to stand, walk, reach with hands and arms, climb, balance, stoop, kneel, crouch, or crawl. The employee must regularly lift and/or move objects that weigh up to 50 pounds, frequently lift, and/or move objects that weigh 50 to 75 pounds and occasionally lift and/or move objects that weigh more than 75 pounds.
Specific vision abilities required by this job include close vision, distance vision, color vision, peripheral vision, depth perception, and the ability to adjust focus.
To apply for the Machine Operator position please send your resume and a cover letter to jobs@strouse.com for our review or submit using the form below.