Strouse is a leader in adhesive tape converting providing precision die cuts to tight tolerances for critical applications.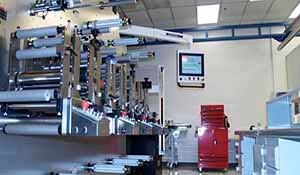 That's one of the many reasons why we're a 3M Preferred Converter. Adhesive tape converting, in its most basic definition, is the process of taking large rolls of adhesive and cutting it down to a specific size or shape so that it becomes a usable component for a manufacturer. Check out this blog post on Converting to learn more. We take this a step further by providing you the most diverse converting services and manufacturing capabilities. Strouse aims to provide you more than tape. We design and manufacture comprehensive adhesive solution that helps solve critical application challenges and provide positive business outcomes. Using high tech web converting presses, clean manufacturing environments, robust processes, and an internal quality assurance team we ensure tight tolerance precision die cutting of adhesives, tapes, foils, films, and much more.
Precision Die Cutting
It is our mission to invest in our employees and in the most sophisticated technology in our industry. Some of our employees have been with us from the very beginning in 1986. A lot has changed since then but one thing remains, our commitment to precision die cutting.
Our presses are completely customized to our needs on a per job basis. What does this mean for you? We can alter each piece of machinery to allow for specific capabilities depending on the needs of the job we are running. Presses are also equipped with in-line vision systems that allow us to 100% inspect parts in real-time as they run through the press. Using this data our quality assurance team can immediately discover out of spec parts and make necessary changes to maintain tight tolerances. Our people, technology, and process are what makes us one of the most accurate adhesive converters in the industry.
Adhesive Converting Capabilities
Rotary Die Cutting
Flatbed Die Cutting
Slitting
Spooling
Die Cut
6-color Flexo Printing
Laminating Adhesive
Tool-free Cutting
Clean Room Converting and Assembly
Much More
At Strouse we are always adding new technology and equipment to our manufacturing plant. That's how we maintain diverse manufacturing capability and precision die cutting. We've had innovative companies like 3M and Tesla approach Strouse with product design issues unsure if a solution was even feasible. Our engineers find ways to make things work. That's why we are More Than Tape.
If you have a question about our adhesive tape converting capabilities talk to an engineer today!