The stress is on.
You're under pressure to create the best possible product. That includes choosing the right material, the right adhesive, the right format, the right elongation at break percentage … even the right converter!
That's because you know your product will be under pressure, too. It has to perform with a certain tensile strength — the maximum force or stress a material can withstand while being pulled apart from both ends before failing. That's why it's also called "breaking strength."
Why is Knowing Tensile Strength Important?
Tensile strength — key data when selecting adhesives to determine the strength and durability of the material — is often expressed in pounds per inch of width (lbs./in. width) or N/100mm. For example, 3M VHB can have anywhere from 55 to 160 lbs/in2 tensile strength.
As long as the load applied via stretching is below the tensile strength of the material, the material will not fail. The elastic behavior of materials extends to a "yield point," which denotes when the deformations are completely recoverable. Some products have a high breaking point but lower yield point. Some products have a lower breaking point but a higher yield point. Nonetheless, the yield point will always be below the breaking point. Pressure sensitive adhesive tape has the added benefit of having a yield point that is very close to its normal tensile strength, so the material can withstand the tension over and over again.
Tensile strength is important to note when using adhesive to bond materials. Bonded joints will face stresses of all sorts including tension (tensile), compression, shear, cleavage, and peel. Applying an adhesive that cannot withstand the necessary stresses will result in failure of the adhesive and potentially failure from the parts you're bonding or the entire application.
Selecting a Material with Tensile Strength in Mind
Selecting a material is like juggling price, durability, and function. It's tricky and confusing, yet when you have the right expertise, it becomes much easier. That's why it's best to partner with a converter that understands the intended use of the adhesive and the intended use of the entire product.
Knowing tensile strength, or breaking strength, is a key piece of information, of course, when it comes to durability and performance. Adding that specific knowledge to overall expertise saves money upfront and headaches down the line.
| | |
| --- | --- |
| Element | Tensile Strength (lbs/in2) |
| Aluminum | 5801 to 7251 |
| Copper | 30,457 |
| Gold | 14,503 |
| Lead | 1740 |
| Concrete | 435 |
| Rubber | 2175 |
If you have questions about tensile strength or adhesives in general, don't hesitate to reach out! Strouse die cuts and converts flexible material to the exact sizes, shapes, and formats. We apply everything we know to every project, and the result is a better understanding of what works best for that project. Discuss your products and needs with an adhesive conversion specialist today.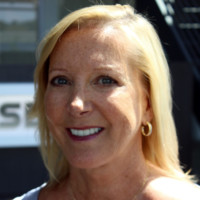 Sue Chambers
As the CEO and President of Strouse Corporation, Sue Chambers is responsible for leading all facets of the business. Sue has a proven executive management track record and over 20 years of experience driving sales growth and operational innovation in the adhesive conversion industry. Sue possesses strong leadership, strategic vision, and savvy marketing skills. Sue has an MBA from Loyola University in Maryland. Since 1997 Sue Chambers joined Strouse and led the transformation into an enterprise-focused company while growing the company into a world leader in the innovative production of pressure-sensitive adhesive with revenue of over 20 million and growing. In the last three years, Strouse revenue has grown 62%; the number of employees has grown and continues to achieve and maintain ISO 9001 and ISO 13485 certification. Strouse built a new production plant going from 40,000 to 62,500 square feet, increasing the production space by 50%. The building also can expand to 82,500 sq. Feet. Sue is active in the community serving on the Industrial Development Board presently and earning several business awards over the years. Most recently, 3M has recognized Strouse as a supplier of the year. She is also on the Dale Chambers Foundation board that raises money for local charities in the community.