You're cradling the perfect idea in your hands like a delicate baby bird when suddenly it hits you: Am I ready to talk to an adhesive converter?
Unfortunately, there is no perfect moment to begin developing your product, but there are signs that indicate you should wait until the idea is fleshed out. Attempting to scale your product too early could result in the wrong tooling or material, stagnation, and loss of time.
Throughout the years, Strouse has noticed tendencies between clients who bring a lot of information to the table and those who don't. So, to better prevent wasted resources or your time, we've compiled signs demonstrating your readiness to approach a converter.
You'll learn key indicators to help you decide what steps to take to successfully develop your product before you begin working alongside a converter.
3 Things You Want To Know Before You Talk to an Adhesive Converter
There's no shame in going back to the drawing board.
It can be challenging to know when it makes sense to reach out, but reaching out too early can lead to shuffling your feet and playing email tag.
The question is, how do I know if I'm ready for a converter?
These three signs will help you decide if there's more work to be done:
1. YOU'VE CONSIDERED FLEXIBLE MATERIALS AS A VIABLE SOLUTION
Since you've found yourself here, it's safe to assume that you've at least considered flexible materials as a viable solution.
There are other options than flexible materials, such as liquid adhesives, mechanical fasteners, and rivets, for you to consider, but ultimately you should choose the one that works best for you.
If flexible materials are still the best choice, but you don't know which you plan on using, test your design with different options through Strouse's Sample Express:
Sample Express allows you to try out different backings, substrates, or other components of an existing design until you find an effective combination to produce on a larger scale.
You've thought about using flexible materials, but have you conceptualized a design? If you haven't drawn out the design with tolerances, you'll probably want to visit a design house first so your converter can look at the measurements and decide whether they can meet your specifications.
2. YOU HAVE A DESIGN IN MIND AND NEED TO PROVE OUT CONCEPT
Strouse isn't a design house, so we aren't the first source to reach out to if you need an entire part designed from scratch. If you need a part design, your best bet is to visit a design house or hire a consultant.
If you're in the early stages of your design process or even midway through a design, reaching out to an adhesive converter is an excellent option.
Once you're at the point where you already have a design, a converter can help you test different variations. Many converters offer adhesive samples and trial runs to test your designs to help you decide which is the most practical for your intended purpose and prove out feasibility.
There are many reasons why you're better off approaching a converter with the basic framework for a design, primarily the ability to ensure your design is manufacturable.
In a moment, we'll discuss design scalability, but if you're still very early in the design process, here are companies we recommend that can help you:
Stress Engineering Services: Stress Engineering offers consulting services on topics such as aerospace engineering to forensics. If you're looking for mechanical design assistance, their product development solutions could be an excellent fit.
The Tape Lab: The Tape Lab covers a wide range of consulting services such as process consulting, materials consulting, and product consulting in a wide range of disciplines.
The type of consultant you need will depend on what you're making. Whether you're working on a mechanical, electrical, pneumatic, or robotic project, different types of engineering consultants can give you the guidance you need.
Your converter can't prepare to build your design without knowing its size, shape, material, etc. But what if you don't know how to design a part? If you only have the idea for a die cut part, you're better off seeking other avenues before approaching a converter.
3. YOU'VE THOUGHT ABOUT SCALING
Every inventor dreams of bringing their product from the screen into reality, but how do you plan on gaining momentum after your design is built?
Scaling up your adhesive production can feel like an intimidating topic when you're just starting on a project, but if it's considered now, it'll save many headaches down the road.
Certain sample-making practices, such as laser die cutting, aren't always ideal for giant part quantities, and it's better to learn there's an issue upfront rather than after spending time and money validating a process you'll eventually have to change.
If you know you're interested in scaling but are unsure how to begin, your converter can manage your growth plan to select the right design and build the process with the future in mind.
Don't fall into the trap of assuming your converter can scale up your adhesive; decide on your future plans and ask your converter how far they can take you within their industry.
Knowing When You're Ready to Work With an Adhesive Converter
If none of the previous information had warning bells ringing in your head, you might be ready to go ahead and contact an adhesive converter.
Asking for die cuts doesn't have to be a grueling task. The most important thing to remember is to take your time explaining the nature of your project and any relevant background information that would make the entire process go more smoothly.
Say you're interested in getting started with an adhesive converter, but you're still in the early stages of the process. You can learn more about how adhesive converters approach product design, timelines, and value through our guide 11 Questions to Ask Before You Choose a Converter: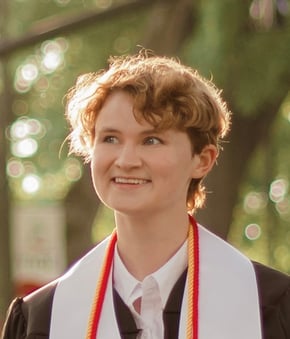 Lee K. House
Copywriter & Content Creator for Strouse. Lee graduated from the University of Alabama in the Spring of 2022 with a double major in English and Spanish.