Roll slitting services are a lot like wedding cakes: there's seemingly no need to understand the price breakdown until you're personally scrambling to place an order.
Unlike a wedding cake, the cost of roll slitting services isn't set in stone but it is comprised of several factors that affect the price.
Strouse accepts standalone slitting jobs and incorporates roll slitting into the die cutting process. Part of the slitting process is designing a cost-effective production method to match each request we receive.
As you learn about the factors affecting the cost of roll slitting services, you'll become familiar with how the slitting quote process functions and grow adept at budgeting future slitting projects.
What Are Roll Slitting Services?
Roll slitting is when a converter takes a large material roll and cuts it down into smaller rolls.
Suppliers often sell massive, unwieldy logs of material that are challenging to use in a factory setting. As a result, flexible material converters offer roll slitting services that cut the material and either re-roll it into smaller rolls or process it into a part or component.
There are different types of roll slitting services depending on the future application of your product, and each kind of roll slitting varies slightly in price. However, we will review each major factor affecting the price of all roll slitting projects and discuss whether roll slitting makes sense for you.
How Much Do Roll Slitting Services Cost?
Unfortunately, the answer to how much roll slitting services cost isn't as easy as dropping a single number. The cost for roll slitting services is largely based on your roll width tolerances and choice of slitting material.
In roll slitting, there is no single price per roll because every customer's order uses a different material with different specifications. Depending on your material or specifications, a roll might cost $1 or $100.
Knowing how your roll width tolerances and material selection affect the price of roll slitting will help you understand where every cost comes from and prepare you for an eventual project quote.
ROLL WIDTH TOLERANCES
Roll width tolerances refer to the acceptable level of variation in roll width from roll to roll, and tighter tolerances will lead to far more expensive parts.
The more variability you can take in your slit width, the cheaper your slitting will be. For example, if you ordered a log of material cut into 3-inch wide rolls, you'd likely need to clarify how precise the smaller rolls need to be.
Can there be slight variations in those 3 inches, or is it essential for automation that your rolls remain within hundredths of an inch of the original size?
Here's another example: If you were to slit a 60-inch wide roll of jumbo material and transform it into smaller rolls that were an eighth inch wide, it would take a much higher level of precision than the 3-inch rolls we mentioned before and therefore cost more money.
Slitting can be incredibly precise if you have the budget to pay for it. Similar to the cost of a die cut, tighter tolerances for slitting often require customized tooling and a more thorough, time-consuming quality check process. While high precision cuts are often possible, they might significantly raise the cost of your slit rolls.
CHOICE OF SLITTING MATERIAL
Suppose you struggle to cut your material with a straight razor or scissors. In that case, your converter will almost certainly struggle also: material selection can have an enormous impact on the cost of roll slitting services because challenging materials will generally cost more.
Highly extensible materials are often difficult to cut because they tend to shrink as they near the blade of the slitter and expand afterward, changing dimensions and making it harder to reach precise tolerances. It's also possible for extensible materials to have the opposite effect depending on the machine tension, so there can be a lot of trial and error during the process.
Metalized film can also be challenging since blades often struggle to cut them. Thinner metal foils can be sliced, but thick metal sheeting and other traditionally laser cut materials are outside their capabilities.
Thick foam (greater than one inch) is tough to slit, so your converter might entirely avoid slitting thick foam and other dense materials.
Additional factors that will affect the cost of your roll slitting service:
Are you working with a single log of material once, or are you planning to place consistent roll slitting or project orders from now on?
Let's say Customer A needed 50 feet of material slit and Customer B needed 5 million feet slit of the same material: although Customer B would end up paying more, they would be paying less proportionally because the quantity of material would offset the cost of tooling or labor time.
The further you scale your project, the cheaper each order will become proportionally, thanks to the economies of scale.
Tooling isn't always necessary for roll slitting, so there might not always be a tooling cost, but occasionally your converter will have to buy a tool based on your material choice and specified widths.
Some materials require specific blades, meaning your tooling cost could increase depending on your chosen material. For example, converters can only cut High Impact Polystyrene (HIPS) cleanly if they use a blade at a specific angle. Slitting HIPS with the wrong blade would result in a stringy mess, and it's possible that the material you've selected might have similar requirements.
If you plan on using an extensible, metal, thick, or otherwise unique material, you'll benefit from having a converter who knows what to expect from a wide range of materials.
What Are Strouse's Roll Slitting Capabilities?
You might be thinking, "O.K., I know about the different services now. But which ones do you guys offer?"
Strouse uses both log and rewind slitting methods, including shear, razor blade, and score slitting. Log slitting cuts directly into large rolls of material to create narrower ones, whereas rewind slitting involves unrolling material and sending it through blades.
When looking at roll slitting, consider which roll slitting method is best for your product. The cost of roll slitting will influence your choice of service, but there are undoubtedly more factors that determine which type of roll slitting you use.
Here are our length specifications based on your type of roll slitting:
| | |
| --- | --- |
| Rotary | Down to 0.050" from 60" wide material |
| Lathe | Down to 0.031" from 60" wide material |
| Score Knife | Down to 0.500" from 60" wide material |
| Razor | Down to 0.125" from 60" wide material |
| Shear | Down to 0.625" from 60" wide material |
Note: These minimums are all bare-minimums, and are dependent upon other factors such as material and final roll presentation.
At Strouse, we offer roll slitting services for standalone orders or as part of larger projects involving roll slitting. For an overview of what else we can do for your project, see our general capabilities page:
Are Roll Slitting Services Right for Me?
When it comes down to deciding whether you need roll slitting services, you'll want to think about the quantity of material, length of the project, and difficulty of future production.
If your desired material comes in the length of a log, but you need it smaller, that's already a good indication that you will use roll slitting services.
In addition, before you choose to place an order for roll slitting, you'll want to consider your project timeline and whether you expect to scale up your product. Planning an order for 1 log of roll slitting material is vastly different than planning an order for 50. You'll want to consider utilizing your order's quantity to offset the labor time cost.
Do you have plans to pursue a project involving roll slitting? Get an accurate idea of what it might cost to do in a one-pass production process: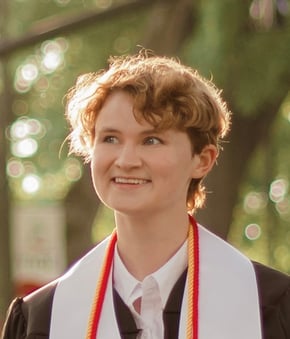 Lee K. House
Copywriter & Content Creator for Strouse. Lee graduated from the University of Alabama in the Spring of 2022 with a double major in English and Spanish.