Manufacturing companies use industrial tape and adhesive for many different applications.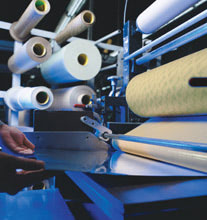 We convert flexible materials to custom sizes and shapes providing unique features for each application. If solutions are needed for hand assembly we can manufacture a product with a tab or extended liner making it much easier to apply. If you are using rolls of industrial tape but changeovers are creating added waste and excess labor we can spool long rolls to create a more efficient process.
Strouse works on projects of all varieties from untested concepts and short runs to full out manufacture of proven solutions. Sample Express allows you to test fit actual sample parts and materials with minimal cost and commitment.
Why Strouse for Industrial Tape Solutions?
Strouse is a 3M Preferred Converter of industrial tape and adhesive. This provides us access to the most advanced industrial materials on the market including bonding tapes, grip materials, hook and loop attachment and much more.
Strouse has a quality management system registered to ISO 9001:2008 standards. This ensures that each project is held to the highest quality standards, maintaining documentation of materials and processes from initial concept through manufacture of the final product.
Top manufacturers including 3M, GE, and Proctor and Gamble all use Strouse to die cut industrial tape and adhesive.
Industrial Tape Applications Include:
Permanent Bonding
Temporary Bonding
Fasteners
Surface Protection
Paint Masking Solutions
Gasketing
Gripping
Sealing
Packaging Solutions
Much More!
Strouse is a 3M Preferred Converter of industrial tape and adhesive.
If you have a question about a project you are working on or think using pressure sensitive adhesive can bring your product to market faster contact us today!