Costs, weight, and efficiency are all crucial to the success of electronic products.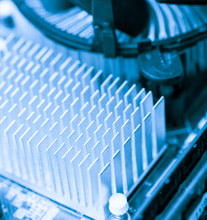 Strouse manufactures adhesive products for electronics manufacturers that increase efficiency during assembly and help their products get to market faster.
As electronic devices continue to decrease in size, the need for smaller more efficient components with multiple functions becomes critical. Thin thermal bonding solutions can help to dissipate heat while securing a heat sink to circuity. Optically clear adhesives allow you to bond touch screens without the use of hardware, reducing weight and stress.
We work on projects of all types from short runs of untested concepts on a napkin sketch to full out manufacture of proven solutions.
Why Strouse for Electronics Adhesive Solutions?
Strouse has a quality management system registered to ISO 9001:2008 standards. This ensures that each project is held to the highest quality standards, maintaining documentation of materials and processes from initial concept through manufacture of the final product.
Top electronics manufacturers including IBM, Cree Lighting, Lexmark, and Xerox all use Strouse to die cut pressure sensitive adhesives.
Electronics Adhesive Solutions Include:
Thermal Management
Bonding Solutions Including using Repositionable Adhesive that can Eliminate Waste
EMI Shielding
Conductive Adhesive
Screen Protection
Flat Screen and LCD Screen Bonding using Optically Clear Adhesive
Heat Sink Attachment
Insulation
Gaskets
High Temperature Labels
High Temperature Insulation
Solder Masking
Much More!
Strouse is a 3M Preferred Converter of pressure sensitive adhesives. This provides us access and more flexibility using 3M electronics products for your application.
If you have a question about a project you are working on or think using pressure sensitive adhesive can bring your product to market faster contact us today!