Regardless of the type of material, it should always fit the needs of the project you're embarking upon.
If you plan on using 3M's F9473pc VHB adhesive transfer tape, there are properties you should first consider.
When selecting a VHB adhesive, you want to ensure it's the right fit for you. Factors that determine this might include:
Design

Advantages

Applications
If you keep these three elements in mind, you'll find yourself selecting adhesives that fulfill your intended purpose.
Design
3M's F9473pc VHB tape is an acrylic adhesive with a poly-coated kraft liner.
It's a thin, transparent, and double-sided tape. F9493pc VHB has a total thickness of 0.26mm and a liner thickness of 0.1mm,
The ideal adhesive application temperature of F9473pc VHB is between 70 to 100 degrees Fahrenheit (21 to 38 degrees Celsius). If applied correctly, the adhesive can withstand temperature down to -40oC. Surfaces under 50ºF (10ºC) aren't recommended for the initial application because the tape becomes firm resulting in poor wet-out or difficulty to adhere readily.
Like the rest of 3M's VHB line, when heat increases, the adhesive softens, and when heat decreases, it firms. At low temperatures (starting from -40oF/-40oC), the F9473pc VHB becomes firmer, and its ability to absorb impact energy lessens.
On the opposite end of the spectrum, the highest temperature 3M's F9473pc VHB can withstand during long-term exposure is 300ºF (149ºC).
Advantages
There are many advantages of using 3M's F9473pc VHB, but its durability, transparency, and usability are the primary reasons to use it.
DURABILITY
3M's F9473pc VHB holds up against many fluids and solvents, including:
Gasoline

JP-4 fuel

Mineral spirits

Motor oil

Ammonia cleaner

Acetone

Methyl ethyl ketone
In addition, F9473pc resists erosion to chemicals, humidity, UV, and plasticizer.
TRANSPARENCY
The transparent nature of F9473pc VHB allows it to replace permanent fasteners such as rivets and liquid adhesives seamlessly.
The ability to replace visible fasteners makes F9473pc VHB useful for external and internal use. Plus, because of its high accessibility, there's no need to fear customers will struggle with products in everyday use.
USABILITY
Applying 3M's F9473pc VHB is quicker, easier, and less messy than liquid adhesives or welding.
Its select bonding material, the 3M™ adhesive 100mp, tends to have a higher adhesion strength than most pressure sensitive tape systems and offers fast results.
However, despite its quick bonding, F9473pc tape was also designed to be long-lasting and durable. The adhesive's holding power is one of its biggest strengths and is why it's considered VHB.
Applications
This leaves us with one last important topic: What is F9473pc VHB used for?
Read some of its applications:
Industrial joining

Metal fabrication

Bonding decorative metal trim

Bonding flexible printed circuits

Adding to aluminum stiffeners or heat sinks

Panel-to-frame bonding
-and plenty more!
For your upcoming project, 3M™ F9473pc VHB is one of many converting materials that may work best.
If you have a solution and are considering 3M™ F9473pc VHB parts, let us know what you're looking for, and we'll help you find what you need.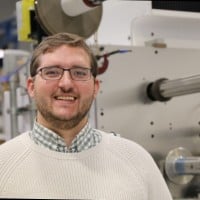 Scott Chambers
As the VP of Sales and Marketing for Strouse, Scott oversees Strouse's Go-To-Market Strategy. Scott has a BS in Business Management from Coastal Carolina, a JD from the University of Baltimore School of Law, and an MBA from Indiana University.