Would you ever put jelly on an open wound? What if I told you that jelly, or more specifically hydrogel (yes, jelly is technically a hydrogel), is one of the most common wound care solutions.
Hydrogel is a water-based substance with a soft consistency and moisturizing properties, making it a valuable tool for promoting wound care. At Strouse, we often cut and process it for our clients building medical technology.
By the end of this article, you'll understand the composition of hydrogel and how it's used so you can decide whether it suits your project.
What is Hydrogel?
Hydrogel is a 3D network of hydrophilic polymer material that quickly absorbs and retains water (or other fluid). As an incredibly versatile and environmentally sensitive material, hydrogel is multi-functional across various industries.
Hydrogel comes in two forms: solid and liquid. Its solid form is often rolled or sliced into sheets for wound dressings, while the liquid form can be injected into the tissue or other parts of the body.
A hydrogel's structure consists of viscoelastic characteristics caused by the chemical or physical cross-linking of individual hydrophilic polymer chains. However, they can swell when exposed to increased temperatures, electric or magnetic fields, light, pressure, pH, ionic strength, solvent compositions, or molecular species.
There are many different formulas, and the one you choose will depend on available formats and how you expect it to behave within your application.
What is Hydrogel Used For?
Hydrogels are used for many medical and scientific applications, and scientists constantly push the boundaries to uncover new uses.
These examples in real-world applications will demonstrate its most common purposes before you dive deeper into designing hydrogel products.
1. HYGIENE PRODUCTS
Hydrogels appear in everyday products like hair gel, toothpaste, and cosmetics. Their ability to absorb water up to 99% of their volume makes them soft and flexible, like a contact lens, or highly absorbent.
Superabsorbent hydrogels, the ones with acrylate-based materials, absorb fluids in disposable diapers and sanitary pads. They hold moisture away from the skin, making it comfortable, preventing diaper rash, and promoting skin health.
Hydrogel products hold unique properties:
High water content
Softness/Low Irritation
Flexibility
Biocompatibility with most cells
Chemical behavior
Temperature sensitivity
The physical characteristics depend on the hydrogel's composition, which can be adapted depending on use. It can be formulated to degrade, dissolve, or maintain chemical stability
2. MEDICAL APPLICATIONS
Hydrogels' soft consistency, porosity, and high water content are very similar to natural living body tissue, making them critical components in general medical applications.
Hydrogel wound dressings promote healing, provide moisture, and offer pain relief with their cool, high water content. This cooling effect on the skin helps manage conditions such as chicken pox and shingles, and when saturated onto a gauze pad, the hydrogel will prevent dressings from sticking to the wound surface.
Other uses include hydrogel eye patches, silicone contact lenses, burn bandages, nerve guidance conduits, tissue bulking agents, and nucleus replacement technology.
3. SMART WOUND DRESSING
"Smart" wound dressings have elements embedded within the hydrogel: microelectronic biosensors, microprocessors, wireless communication radios, etc. These dressings not only protect the wounds, they can, for instance, respond to changes in skin temperature by releasing medication as needed. Plus, they can even light up if a prescription is running low.
Motional wounds, or injuries on stretchable body parts like the neck or joints, are challenging to address. Yet, smart wound dressings flex with the body, remaining in place as the patient bends a knee or elbow. Whatever elements or electronics are embedded remain functional in the dressing when there's tension.
Abilities such as monitoring and reacting to changes while remaining soft and flexible make smart hydrogel dressings highly applicable to chronic wound care.
4. DRUG DELIVERY
Inserted tubes or drilling holes will create paths in the matrix within a stretchable hydrogel patch. Their high-porosity structure allows drugs to be loaded and released, making long-term transdermal drug delivery easier and allowing for a controlled drug delivery system (DDS).
Other elements embedded in hydrogel — conductive titanium wires and semiconductor chips — allow drugs to be delivered on demand from small drug reservoirs. Lastly, it can have sustained release abilities for drug delivery, allowing for high drug concentrations over a long period.
5. MONITORING DRUG DELIVERY
The advantage of delivering drugs using hydrogels is more than the delivery method. It allows healthcare providers to monitor the release using an electronic interface.
Hydrogel conforms to the environment of the human body and retains soft and stretchable mechanical properties while bringing electronics in close contact with the skin.
Suppose the drug amount in the reservoirs was low. In that case, an LED light embedded in the hydrogel would alert the patient or caregivers even while it's stretched around flexible body parts.
6. MICROFLUIDICS AND CONVERTING
If you're using hydrogels to deliver drugs precisely or test liquid samples, it already has intricate circuits and microchannels (ranging from submicron to a few millimeters) built into it.
Top-end converters create microfluidic devices for organ-on-a-chip technology, test strips, or other tasks requiring the movement or analysis of small liquid molecules. Since hydrogels are non-toxic to most cells, molding feature designs and sizes onto them is possible.
Experienced converters approach hydrogels' low strength and reluctance to stick on contact with innovative adhesive solutions. If you want to have it processed, see the questions we've prepared above to ensure your process runs smoothly.
Choosing Hydrogel For Your Project
Hydrogels perform a wide range of functions, but the possibilities are continuously expanding.
Whether it's helping spinal cord regrowth, organ generation, or even tissue engineering applications, you might have your own microfluidic devices in development.
Hydrogels' full potential has yet to be determined in everyday products or specialized medicine, and high-end converters like Strouse are ready to innovate solutions using tried and tested technology.
If you're interested in wound dressing, transdermal or microneedling, microfluidics, and other hydrogel applications, see our learning center for more information and guides:
Originally published: December 8, 2022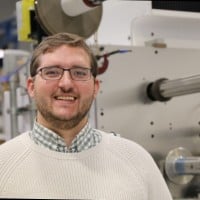 Scott Chambers
As the VP of Sales and Marketing for Strouse, Scott oversees Strouse's Go-To-Market Strategy. Scott has a BS in Business Management from Coastal Carolina, a JD from the University of Baltimore School of Law, and an MBA from Indiana University.