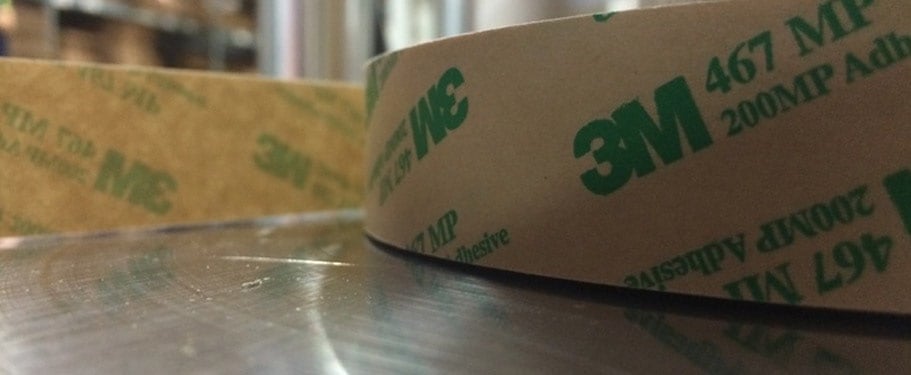 The 3M brand is synonymous with innovation and performance and that is exactly what this product delivers. For over 30 years 200MP adhesive has set the standard for bonding adhesive. Now 3M has taken things a step further by implementing lay flat liners and an air-release mechanism for smoother applications.
3M 467MP is designed for bonding to metal and high surface energy plastics. This material is widely used in many industries including transportation, specialty vehicle, automotive, military, general industrial, appliance, medical and electronics.
3M 467MP Applications

:
Antenna Bonding
Battery Bonding
Electrical Insulation Bonding
Flex Bonding
Logo Bonding
Touchpad Bracket Assembly
Wire and Cable Clip Attachment
Much More
3M 467MP is a durable bonding solution that features high resistance to humidity, moisture, and temperature changes. It has operating temperature range between -40 and 400 degrees Fahrenheit. The material provides excellent shear strength which minimizes edge lifting and slippage of parts. When bonding to plastic parts 3M 467MP provides initial repositionability which allows you to achieve perfect alignment during assembly.
Although similar to 3M 468MP, 3M 467MP is 2.3mils (.06mm) thick without the liner. This thin material makes the tape ideal for electronics and medical components.
Converting 3M 467
3M 467 can be die cut and converted into custom formats depending on your needs.
Slitting: Strouse can slit rolls of adhesive transfer tape to custom widths. This provides you tape in the exact width you need for your task at hand. No excess or waste and no more using rolls that are too large and bulky or too small to get the job done.
Spooling: This unique capability allows Strouse to combine multiple rolls of transfer tape into one large spooled roll or reel. Much like fishing line is neatly wrapped around a reel; spooling neatly wraps tape onto a wider core allowing for longer length rolls of material. This can save you time and money reducing changeovers of rolls while keeping your machines running longer.
Die Cutting: This is the process of cutting a wide roll of adhesive transfer tape into a custom shape or usable part for your process. Parts can be cut into different formats to fit seamlessly into your process.
Individual pieces – Transfer tapes can be laminated with liner on the adhesive leaving no exposed adhesive. This means that when parts are die cut they are provided as individual pieces that can be placed inside a bag.
Sheeted Parts – Some assembly processes require multiple shapes or parts of the same material. This is where sheeted parts come in handy. Multiple parts can be cut onto a single sheet ensuring that your employees will use all of the required parts during assembly. This reduces error in your process as well as the potential for product failure.
Die Cut Parts on a Roll – This is our most popular format for providing die cuts. Custom cut parts can be provided on a liner in the form of a rolled good. This allows for hundreds or thousands of parts to fit on a single roll. This makes application of die cut parts easy and efficient as parts can be removed from the roll and the next part is ready to be peeled and placed.
Tabs or Extended Liners: Die cut solutions are great for hand assembly or automated processes but sometimes removing the backing from an adhesive die cut can be difficult. Strouse simplifies this process by adding a tab to the part or extended liners that make it easy to remove the liner and place the adhesive. Liners can also be split backed saving your assembly team the frustration of removing thin liners while saving you time and money in the process.