Strouse will be attending and exhibiting at the MD&M Philadephia 2015 Conference. Be sure to stop by and visit us at Booth 732!
We will be showing some of our latest projects in the medical industry and have engineers on hand to discuss new medical adhesives, trends in the medical market and our sample express program.
Whether you've got a concept sketch drawn on a napkin or a project currently in production you can ask our engineers and they can help you figure out how to solve your application.
MD&M Philadephia 2015 Conference Details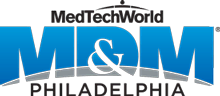 What: MD&M Philadelphia 2015 Conference
Where: Pennsylvania Convention Center in Philadephia, PA - Booth 732
When Wednesday October 7th - Thursday October 8th from 10:00am - 4:00pm
If you are going to be at the show, be sure to let us know.
We hope to see you there!