Investment in a new Delta press provides new adhesive converting capabilities.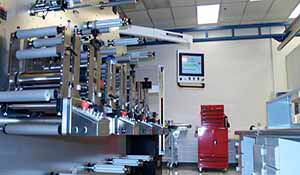 It is Strouse's vision to be a leader in the custom adhesive solutions industry through strategic investment in sophisticated technology and creative skilled employees that provide solutions to enable customer growth in global markets. This machine, the first of its kind, directly aligns with this vision.
"Web length is not our friend," says Mark Cheatham, Director of Engineering at Strouse. "Long web paths introduce more opportunities for error with delicate materials. What most converters accomplish by hooking two or more Delta presses together, Strouse has accomplished in one press." This unique design will create complex multi-layered products using unique materials and pressure sensitive adhesives in a flexible, compact design.
"This Machine takes the tight tolerance converting process to the next level. Not only can we produce small parts for electronics under extremely tight tolerances, but we can now replicate that accuracy and success to produce large parts using transfer adhesive for the medical, automotive, and appliance industries," says Cheatham.
This new Delta web converting press is equipped with sophisticated technologies that Strouse uses on their other Delta presses including an in-line vision system to inspect die cut parts in real-time as they come off the press. This allows Strouse to 100% inspect each part and to provide quality data instantaneously. With this machine stationed in Strouse's ISO 7 certified cleanroom, customers can expect the most accurate die cut adhesives to be converted in an extremely clean and controlled environment.
Strouse is a die cut adhesive manufacturer with over 25 years of industry experience. Serving the medical, automotive, military, appliance, and renewable energy industry, Strouse continues to innovate. With a quality management system currently registered to ISO 9001:2008 standards, Strouse not only has a commitment to quality but excellent customer service. A full team of design and development engineers allows Strouse to invest the necessary time and resources for each and every project. Located in Westminster, Maryland, Strouse can be contacted directly at 1-800-410-8273 or visit our website for more info at www.strouse.com